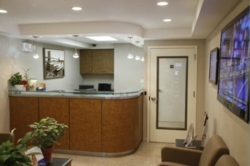 Brooklyn, NY (PRWEB) October 05, 2011
Cosmetic dentist Jim Sarji, DDS of Advanced Gentle Dentistry of Park Slope has announced the launch of a new, patient-focused website. The practice launched the new website created by dental website design leader, ProSites, Inc. The website includes many interactive features like patient education videos and a Smile Gallery feature to help patients make better informed decisions about their oral health. The website also utilizes extensive search engine optimization techniques to reach patients and local consumers who are searching for relevant information about Brooklyn dental implants and other services that Dr. Sarji offers.
Current and prospective patients now have access to educational videos, information about payment options, and other informative content when they visit the website. Some of Dr. Sarji's services include:
Cosmetic Dentistry
Dental Implants
Family Dentistry
Dr. Sarji is also utilizing his website to educate the community on the importance of oral health. The website includes a links page with helpful resources that allow patients to learn more about their treatment options.
About Advanced Gentle Dentistry of Park Slope:
Dr. Jim M. Sarji established Advanced Gentle Dentistry of Park Slope in 1998. Since then he and his team have been improving the smiles and overall well-being of their Brooklyn patients. In order to provide the experienced and gentle care that his patients deserve, Dr. Sarji keeps current on the latest technological advancements in dentistry. Patients can also watch TV's in the office or enjoy the view of the outside from the skylights in their treatment rooms. For more information about gentle dentistry or veneers in Park Slope, visit the website at parkslopefamilydentist.com.
###