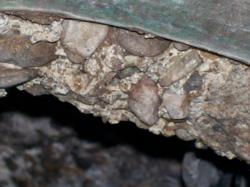 BioConcrete stops MIC before it can happen by destroying the bacteria that lead up to it.
Sparks, NV (PRWEB) October 04, 2011
Armour® introduced Dial antibacterial soap in 1948. Burlington® developed BioGuard® socks in 1976. For more than 60 years people have been surrounded by antimicrobial products. From spray disinfectants such as Lysol®, to hand sanitizers like Purell®, antimicrobial goods abound with more hitting the market every year. But antimicrobial concrete septic tanks and wastewater products? Why?
Under certain environmental conditions some areas of the country are experiencing failure of concrete wastewater systems due to Microbial Induced Corrosion (MIC).
MIC is a type of corrosion that takes place inside concrete wastewater products above the liquid level. Concrete products such as residential and commercial septic tanks, grease interceptors, wet wells, lift stations, concrete pipe, and manholes are all susceptible to MIC under certain conditions.
MIC occurs when Anaerobic (non-air breathing) bacteria form in raw sewage and produce hydrogen sulfide gas (H2S). Hydrogen sulfide gas is converted into sulfuric acid (H2SO4) by the Aerobic (air breathing) Thiobacillus bacteria that grow on the concrete surfaces above the wastewater flows. Sulfuric acid attacks the concrete surface turning it into crumbly calcium sulfate known as gypsum.
In most parts of the United States, traditional concrete wastewater products are not subjected to MIC but it has been identified as a significant issue in some areas including Los Angeles, CA; Houston, TX; Bullhead City, AZ; Atlanta, GA; Miami-Dade, FL; and Seattle, WA among others. MIC is not unique to the U.S. It has also been known to occur in other parts of the world including Canada.
Factors contributing to MIC in sewage conveyance systems are temperature, retention time, high B.O.D. levels, and turbulence. Some experts believe the increased use of low flow fixtures and water tight tanks are increasing the level of hydrogen sulfide gas which may lead to more instances of MIC.
In the past, coatings or liners have been applied to the interior of concrete wastewater structures to protect the concrete from MIC. However, these methods are costly and do not eliminate the formation of sulfuric acid. If the coating or lining becomes compromised corrosion can still occur.
Rather than being a coating or a liner, BioConcrete™ by Jensen Precast is a concrete mixture which includes a MIC resistant Trimethoxysilyl quats microbiocide liquid agent. Because the agent is mixed into the concrete at the time of manufacturing, the antimicrobial properties cannot wash off, chip off, or disband. The protection is impregnated into the full thickness of the concrete and last the designed life of the structure. The agent works by destroying the Thiobacillus bacteria before they can convert hydrogen sulfide gas to sulfuric acid. Without the Thiobacillus bacteria, the cycle leading to MIC cannot begin. It is safe to handle and leaved no environmental residue.
This innovative antimicrobial technology was first developed by Dow Corning in the 1960s and is proven to be an effective antibacterial treatment on surfaces for more than 30 years. Dow Corning was first granted EPA registration in 1976 when the antibacterial was introduced it the textile industry. Emory University reengineered the technology in 1995. ConMICShield® was introduced in 1996 and has been used in concrete wastewater products with excellent results for more than 10 years. In 2011, Conceal Sealants, Inc. introduced ConBlock MIC formulated with the same technology. Trimethoxysilyl quats are listed by the U.S. EPA under the pesticide code (PC) 107401, and all products sole must have an EPA registration number.
"The advantages of precast concrete wastewater products over other materials has been known for some time," says Tony Shanks, President of Jensen Precast. "Historically instances of MIC have been limited to areas with particular environment issues. While it's not an issue for most of our customers, it was important to us to find a solution. Based on our research, and assurances from our suppliers that the antimicrobial properties of the additive are effective, we decided to make BioConcrete™ available to our customers who are in areas prone to MIC."
Indiana University Purdue University at Indianapolis (IUPUI) Department of Engineering Technology researched ConMICShield® for the City of Indianapolis, IN Department of Public Works. They recommended the use of the agent in their New Product Review process report dated April 2009.
More information about Trimethoxysilyl quats is available on the web sites of the suppliers of these additives such as ConShield and Concrete Sealants, Inc. Jensen Precast cannot warrant the efficacy of these anti-MIC additives and relies upon its suppliers' expertise to provide what Jensen Precast considers to be a superior anti-MIC concrete product.
Jensen Precast, founded by Don Jensen in 1968, is one of the largest independently owned precast concrete manufacturing companies in the United States. Jensen Precast products are used in highway construction, retaining walls, electric and gas utilities, telecommunications, stormwater capture and treatment, rainwater harvesting, on-site wastewater, sewage applications, above ground fuel storage, and more.
For more information contact:
Marcia Neese
Dir: 775-352-2709
http://www.jensenprecast.com
###