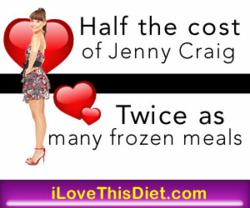 Losing twenty pounds is a big accomplishment. We're rewarding our members' success with a helpful gift.
Newport Beach, CA (PRWEB) October 04, 2011
The I Love This Diet weight loss program has announced that it is giving away a free Skinny Pods weight loss product to each of its members who lose 20 pounds or more. The promotion will run until the end of the 2011 calendar year.
I Love This Diet was designed by dietitians to provide dieters with a nutritionally balanced way to lose weight using frozen entrees from Lean Cuisine, Healthy Choice and Weight Watchers Smart Ones, as well as Progresso Soups.
"Losing twenty pounds is a big accomplishment," says I Love This Diet spokesperson, Candace Abbott, "We want to celebrate that milestone with our customers by giving them a useful gift like Skinny Pods, that will help them more easily reach and maintain their individual goal weights."
Skinny Pods are the new weight-loss tool that lets dieters snack guilt-free on their favorite desserts without breaking their diets. "With Skinny Pods almost nothing is taboo -- even brownies or candy bars. It's the low calorie way to eat high calorie desserts," explains Skinny Pods spokesperson Christina Ross. But Skinny Pods are more than just a portion control device for dessert. "The most important purpose of Skinny Pods is to curb sugar cravings. By reducing the desire for sugary snacks in both the short and long term, Skinny Pods serves as a bridge to healthier eating."
I Love This Diet is a lower cost alternative to the more expensive, celebrity endorsed meal plans. "Jenny Craig is a great plan, but it can easily cost $500 - $600 per month in food and shipping costs," commented Ms Abbott. "BistroMD with shipping is more than $700 per month. I Love This Diet users enjoy a delicious frozen meal diet plan for a fraction of the cost of these plans."
Ms. Abbott stresses that I Love This Diet has no relationship with any of the manufacturers of the frozen entrees and soups used in the diet plan. "We choose to use Lean Cuisine, Healthy Choice and Smart Ones frozen meals in our diet program due to their positive nutritional characteristics, as well as their low cost and wide availability."
I Love This Diet members begin their weight loss journey once they've purchased and downloaded the series of illustrated PDF guides which can be read on any computer, either PC or Mac. The program can also be accessed on iPads and iPhones using the GoodReader App (not included). Dieters are assigned one of four calorie levels of between 1300 and 1600 calories per day, based on their current weight. As they lose weight, their calorie level changes accordingly. Dieters are offered a great variety of foods, as well as an assortment of tasty, low calorie, filling snacks from the I Love This Diet Treats Guide to help them stay on track.
I Love This Diet members who would like to receive their free Skinny Pods gift should contact Candace at candace(at)ilovethisdiet(dot)com.
To learn more about I Love This Diet go to: http://www.ilovethisdiet.com.
###