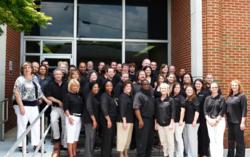 This place is really more like a second home for us. And that makes us more engaged, energized and eager to help our customers.
Encino, CA (PRWEB) October 04, 2011
AppliancePartsPros.com (APP), the popular online appliance parts retailer, is celebrating its award-winning customer service department as part of Customer Service Week, October 3-7th.
Customer Service Week is an international event devoted to recognizing the importance of customer service and honoring the people who work on the front lines serving and supporting customers. The International Customer Service Association began Customer Service Week in 1988. In 1992, the U.S. Congress proclaimed Customer Service Week a nationally recognized event. The event is celebrated by thousands of customer service, call center and help desk professionals -- and often by the entire organization.
AppliancePartsPros' highly motivated, hard-working and dedicated customer service professionals were recently recognized for high scores achieved during their technical appliance training and year-to-date quality of service ratings. The training, professionalism and passion of the team members has clearly paid off with impressive results. AppliancePartsPros.com has won BizRate's prestigious "Circle of Excellence" award five years in a row (2007 - 2011). It was also rated one of the "Best of the Web Top 50 Retailer Sites" by Internet Retailer Magazine. With over two million customers served since its start, APP helps tens of thousands of people each month save money on their appliance repairs.
The company is committed to ongoing training. CEO Roman Kagan is excited about the company's newly revamped training program. "The management team works hard to hire, train and retain an excellent group of professionals. To this end, we are expanding our training program to include enhanced customer experience and customer satisfaction team training, further technical training in fundamentals of appliances, and a learning center which will include a library, reading room and testing center." Kagan is also enthusiastic about the company's advanced product training, a hands-on experience where the team members will diagnose and repair the products themselves. "This is an extremely exciting adventure in a training program that develops and nurtures true experts in the appliance parts industry."
As part of its continuing commitment to making AppliancePartsPros a best place to work, Kagan revealed plans for the opening of the company's new Health and Wellness Center. "It should be completed within the next few weeks and will include modern workout equipment and an indoor track. This is yet another part of our mission to create a strong company culture that makes our team members happier, healthier and feeling better about themselves and their co-workers."
Call Center Manager Jenny Hughes elaborated on the company being a great place to work. "The renovated building housing our state of the art call center in Cleveland, Tennessee has a wonderful appliance history connected to it. It was formerly home to Maytag and before that, the Hardwick Stove Company." Hughes is especially proud of the company's impressively high employee retention rates. "Our team members just plain like it here! I feel this is due to the family atmosphere which includes such perks as monthly catered lunches and birthday celebrations with cupcakes, cake or ice cream sundaes, pastries on Tuesdays and Thursdays, monthly theme weeks with movies and fun costumes, and a cafeteria with cable TV and all sorts of fun games such as a Nintendo WII, ping pong table and foosball table. And when you factor in the gym, the learning center, library and reading room, plus the friendships we've developed -- this place is really more like a second home for us. And that makes us more engaged, energized and eager to help our customers."
About AppliancePartsPros.com
AppliancePartsPros.com serves the do-it-yourselfer with over one million appliance parts and 500,000 parts photos and diagrams, allowing people to easily match theirs. On the site's Appliance Repair Forum, customers can post any repair questions and get professional responses from the technicians on hand.
###