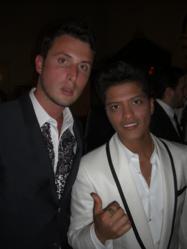 I feel that it's of great importance to give back to charities and to people in need. It's something that we all must do
Hollywood, California (PRWEB) October 01, 2011
New pop star Tyler Wade celebrated his 25th birthday on Sept 9th 2011 in Beverly Hills. The event raised funds and brought awareness to the charity Spare Some Change. The mission of the Spare Some Change Mentoring Program is to engage, enlighten, and empower homeless kids to create change in their lives and to provide direction toward a stable future within mainstream society. This information is provided by Raffles Entertainment.
The blue themed extravaganza had many celebrity guest. Some of which were:
Bryan Singer - Director of "X-Men: First Class", "Superman Returns", and "Usual Suspects."
Joe Slaughter of "Step Up 3D"
Raffles van Exel - Celebrity Consultant
Quinton Aaron of "The Blind Side"
Chris Georgalas - Celebrity Fitness Trainer
and Molly Smith Exec. Producer of 'The Blind Side."
Tyler Wade officially started work on his untitled album and has recorded his first major song. It is a remake of the classic song "Lean on Me" originally recorded by Bill Withers. More information about "Lean on Me" and other projects will be made available shortly.
"I had a phenomenal birthday party and what was extraordinary about it is that we partied for a great cause." States Tyler Wade. "In recent weeks, I've attended many charitable events, including Bullets4Peace and the Tech School of L.A. fundraiser. As a singer, I feel that it's of great importance to give back to charities and to people in need. It's something that we all must do."
For more information about the Spare Some Change The Movement charity, please visit http://www.sparesomechangethemovement.com
About Tyler Wade:
Tyler Wade was born and raised near Atlanta, Ga. His father is a Presbyterian minister and his mother is a homemaker and independent business woman. Tyler learned to sing at an early age during participation in the church youth choir under the direction of Linda Manning, and was selected to perform many solos while participating at Midway Presbyterian Church in Decatur, GA. During this time, he developed a passion for music but just like all young people, he had to put this passion in the background for a few years in order to finish school.
Late in his teenage years, Tyler began modeling in the Atlanta area for G-Star, Diesel, and Y-3. He decided to move to Los Angeles in the summer of 2007 to further pursue his modeling career. However, in the background of this endeavor, there was always a desire to pursue music. While living and working in Hollywood, he had the opportunity to become associated with the socialite scene. Through the contacts he made, he began to earnestly pursue music again. Now a budding recording star, he continues to enjoy life in Southern California while finally having the opportunity to pursue his passion for music.
Tyler is recording is debut album with more details to follow. For interviews and other inquires, please contact pr@rafflesentertainment.com
Source: Raffles Entertainment
###
###