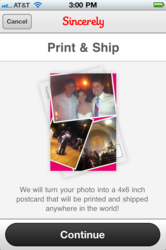 A printed photo is the world's most simple and ubiquitously appreciated gift
San Francisco, CA (PRWEB) October 06, 2011
Sincerely Inc. today announced that 12 iOS apps are launching integrations with the Sincerely Ship iOS Library. The Ship Library enables any mobile photo application to turn a photo into a real printed postcard and send it anywhere in the world. Sincerely now powers the largest footprint of "print & ship" buttons on the mobile web.
Developers that integrate with Sincerely Ship are able to leverage Sincerely's global photo printing network - turning digital content into physical memories. Sincerely handles all billing, fulfillment, and customer support. A revenue share is paid to partners based on the amount and price of products purchased using the Ship Library. Developers interested in integrating the Ship Library into their app can visit http://dev.sincerely.com
"A printed photo is the world's most simple and ubiquitously appreciated gift " said Matt Brezina, CEO & Co-founder, Sincerely Inc. "We are excited to power the digital to real world gifting service for these great brands and mobile applications"
Lonely Planet is releasing Lonely Planet Postcards today. This branded experience will allow travelers to send a printed postcard using their own picture or one from Lonely Planet Image's gallery for $1.99. Lonely Planet Postcards will be offered as a free app in the App Store. "Lonely Planet's mission is to get travelers to the heart of a place " said Laura Szkrybalo, Director of Online & Mobile Business Devlopment, Lonely Planet. "With the Sincerely Ship Library users are able to capture and easily share those amazing experiences with friends and family back home"
Waddle, a digital photo storytelling application that launched just yesterday has also integrated the Sincerely Ship Library. Users will be able to share, comment on, and view photo streams of friends and family. Using the Sincerely Ship Library users can decided to make any photo into a physical memory that will be sent as a postcard.
Pregnancy Progress, a pregnancy tracking app by Aesop, will also be incorporating Sincerely Ship. "We are excited to offer the Sincerely service to our users" said Matt Thacker,CEO of Aesop "One of our goals with Pregnancy Progress is to help families share important moments and milestones. Now, our users can bring the special touch of a physical photo to those experiences."
Quiption, a new application launching today is an easy to use postcard application with beautiful hand drawn typeface. Users can choose from one of 12 designs to overlay on an image. Images can be saved to the user's photo library, sent digitally, or can be sent as a Postcard using the Ship Library.
Users of existing Sincerely apps such as Postagram and Popbooth will be able to use their same Sincerely account information to log in to these partner applications.
Partners joining the launch include Lonely Planet, Waddle, Quiption, Picsicle, Filtermania, Ship Mate, Interlacer, StoryBoarder, Path, Pregnancy Progress, I'm Awesome, Color Effects and Pic Collage. Partner apps can be found at http://dev.sincerely.com/partners
###