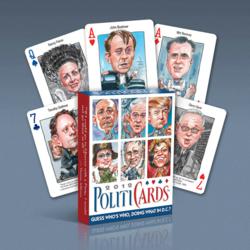 I don't have Richard Nixon to kick around anymore but...
Glendale, CA (PRWEB) October 03, 2011
Politicards, the quadrennial deck of hilarious playing cards that has happily roasted Washington D.C.'s finest and launched a thousand laughs for 40 years, is back on the market just in time for the Presidential Election year. Award-Winning caricaturist Peter Green's classic collectible has, once again, even-handedly skewered 54 politicians and pundits from the progressive Left to the conservative Right, giving each of them their very own card with the traditional power-ranking of deuce through ace; none being spared the rod.
Among the twisted lists of confounding candidates, some of whom want nothing more than even a glancing opportunity to take the political prize, to the back rooms and boardrooms found along the hallowed halls of Washington, Green has left no marble fragment unturned, no possible Leader-of-the-Free-World unscathed. Of course, all the favorites are there: Mitt Romney, Sarah Palin, Rick Perry and Ron Paul vie heart-to-spade with Barack Obama, Nancy Pelosi, Ben Bernanke and Joe Biden.
Reminiscing from his LA studio about the first "pack-of-politicos" that made headlines in 1971, Green says, "Its a much different climate out there today. Sure I don't have Richard Nixon to kick around anymore but what a playing field with the Tea Party entering the fray and so much at stake these days." And, certainly, that hadn't gone unnoticed as every election year, collectors of political memorabilia eagerly await his colorful illustrations of the day's campaign playground.
Green starts the process of bringing his product to life by painstakingly developing a campaign index; a 'Who's Who" of political power and popularity throughout the nation. Then he goes "digital" to determine who makes the cut through an elaborate on-line polling system, bringing the total from hundreds down to the Final Fifty-Four (gotta count the Jokers!) For his coup de gras, Green matches up the winners with something a bit unexpected — their appropriate character from the world of motion pictures.
Movie characters. Really? What do movies have to do with Politicards?
Simply stated: "There have been movies made with characters that perfectly match what each of our political leaders seem to epitomize." Green smiles at the idea, "It's a revelation. AND it brings a few more levels of humor to each of the cards. Add to the mix one of the lines the film character actually says and you've got a perfect parody of the political system."
Taking a gander through the deck, he's got Hilary Clinton in a tutu from the Oscar-nominated Black Swan darkly stating that "...it's my turn to play the Black Swan." And there's Texas governor Rick Perry shoveling piles of "fertilizer" and dressed as Robert Duvall from Lonesome Dove boldly shouting "I've shoveled my share of it and it ain't hurt me none!"
And then there's President Obama as Pee-Wee Herman, dancing to "Tequila" in Pee-Wee's Big Adventure, coyly reminding us that, "...there's a lot you don't know about me."
Everyone's a target.
Green also has letters from many of those he's lampooned in the deck over the years, each professing their love for all his work and the deck in particular.
"McCain is a big fan," Green admits, "So are many of the members of the Senate — both Democrat and Republican. They know it's all in good fun - no cheap shots." He goes on to say, "Mamie Eisenhower (wife of President Dwight D. Eisenhower) played bridge with the '72 deck of Politicards every Sunday. It definitely has a popular national presence."
Popular indeed. So much so that, according to Marketing Director, Tim Sims, "These cards are snatched up from every conceivable venue. From airport gift shops, to state capitol stores to Times Square and 7-11's ... It's just one of those humorous gift items that you can play a game of poker with all the while poking a whole lot of fun at those you'd really like to poke fun at — without, you know, resorting to too much 'unnecessary roughness. All-in-all," he continues, "it's a wickedly pointed, non-partisan lambasting that people seem to really enjoy looking at over and over."
For a sampling of Politicards past and present visit http://www.politicards.com
###