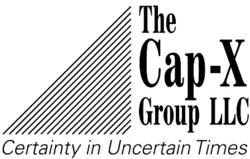 Office supplies coupled with service contract management makes perfect sense.
Leesburg, VA (PRWEB) October 01, 2011
Lawrence Stanley, President and Founder of The Cap-X Group, LLC looks ahead to CXG's future by leveraging office supplies to assist The Federal Government with its equipment maintenance management costs.
Federal agencies have officially initiated their move toward strategic sourcing and these agencies are taking a serious inventory of many familiar office supplies.
"The Federal government typically takes time to adopt new measures," says Stanley. "However with office supplies it's something they are very familiar with, and if we can position the Re-launch of a multi-million dollar office supply company at a time when the government is seemingly concerned, the sky is the limit."
"As a minority owned company, The Cap-X Group would obtain immediate brand recognition and awareness by a potential joint venture with one of the largest minority owned office products distributors in the Washington metropolitan area," says CXG spokesperson.
Over the past week, several federal agencies and departments will begin combining their purchases of office printers, copiers and scanners in hopes of collectively saving $600 million in the next four years, administration officials noted.
"One of the things we've discovered is that agencies don't have a clue what they have," said Dan Gordon, the Obama administration's top federal contracting official. "They don't realize how many cell phones and Blackberry's they have."
An agreement signed last year surrounding office supplies is assisting 60 agencies and military offices save approximately $200 million over the next forty eight months, according to OMB Deputy Director Jeffrey Zients.
Overall, the government's plethora of agencies, bureaus, departments and offices spend more than $500 billion on government contracting annually, according to the Office of Management and Budget. Government contracting more than doubled during George W. Bush's presidency, in part because of the wider use of multimillion-dollar no-bid deals.
THE CAP-X GROUP, LLC (CXG) provides comprehensive Equipment Maintenance Management Programs for Hospitals & Healthcare Providers, Financial Institutions, Government Agencies, Colleges and Universities, Grocery Stores, and Commercial Operations. CXG specializes in providing quality service, technical resources, innovative management systems, and financially secure solutions. THE CAP-X GROUP does not repair or maintain equipment; however, CXG does provide its customers with the tools and support necessary to reduce their maintenance budget while improving equipment performance. http://www.capxgroup.com
# # #