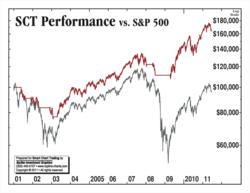 It's time to offer investors a product that can actually manage the risk of equity investing effectively.
(PRWEB) October 02, 2011
Smart Chart Trading was founded to provide equity investors with an alternative to the myriad of poorly performing investment products traditionally offered by Wall Street. Based in technical analysis, the SCT trading strategies attempt to effectively manage the risk of investing in equities and eliminate emotion from decision making.
The stock market over last ten years has exhibited unpredictable and unprecedented volatility with two market dumps of 50% or more, Wall Street has yet to offer any real risk management strategies beyond diversification, a fact that is reflected in performance results. "Mutual fund managers and brokers continue to underperform the market year after year, while individual investors fare far worse. It's time to offer investors an alternative that can actually manage the risk of equity investing effectively" says founder Don Roth. It's true that from '88-'08 individual investors average only 1/4 of the returns of the S&P 500. Through the same time period Smart Chart Trading, through hypothetical trades, beat the market by close to 10%.
Mr. Roth continues, "We provide our members with risk management strategies that have proven to minimize the risk of a straight by and hold. As a direct result of effectively protecting our investments, we have significantly outperformed the market through nearly every long term trading period over the past 60 years of backtested trades.
"I only wish we had launched three years ago, then we would have had the opportunity to save millions of dollars for individual investors who lost more than half their money in the '08 crash. The Smart Chart Trading model signaled a sell signal in June of '08 that would have been a godsend to many investors, missing the entirety of the October crash and subsequent bear market through April of '09."
Investors interested in learning more about Smart Chart Trading website at http://www.SmartChartTrading.com as well as sign up for one of Don Roth's webinars explaining Smart Chart Trading and the SCT strategies in more detail.
###