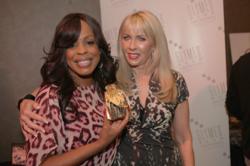 Hollywood, California (PRWEB) October 01, 2011
Christine Heathman, Master Aesthetician, CEO and Founder of GlyMed Plus and the GlyMed Plus Institute of Skin Science™ showcased her professional-only skin care line at the GBK & Tic Tac Mints 2011 Emmy Awards Gift Lounge. The event was held on September 16 & 17th, 2011 at the W Hotel in Hollywood, California.
The W Hotel was the perfect venue for the opulent gifting lounge. Christine Heathman presented his and hers gift bags (DNA Reset Face and Neck Cream for the ladies and the Skin Care Travel Pack for the men) to celebrities such as comedic actress and co-host of "The Insider" Niecy Nash, "Survivor" host Jeff Probst, movie and television legend Cloris Leachman, Eric Stonestreet of "Modern Family" and Eli Gold of "The Good Wife."
Each year, GBK raises awareness and funds for various charities. The charities that were featured at the 2011 Emmy Gift Lounge were The Art of Elysium, Teach for America, and A New Way of Life Reentry Project. Christine Heathman is an avid supporter of GBK Gifting Lounge and their efforts to bring attention to various charities.
About Christine Heathman
Christine Heathman, CEO and Founder of GlyMed Plus/Advanced Aesthetics is the innovator behind GlyMed Plus Purely Professional products which are used in spas & medical clinics all over the world. Christine is skin care advisor to many Hollywood celebrities who use her fantastic, high end, professional only products. Christine has appeared as a guest expert on The Doctors and on Lifetime TV Channel's The Balancing Act. GlyMed Plus/Advanced Aesthetics offers a complete range of professional only products, combining technologically advanced ingredients with certified organic botanicals to produce amazing results.To find out more about Christine Heathman and her skin science message, please visit http://www.christineheathman.com. For other inquries, please contact Raffles Entertainment
###