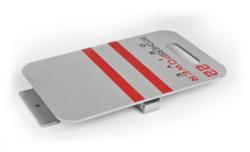 Pitchers Power Drive Youth Signature Model will come with a Drew Storen 8x10 autographed photo.
Boston, MA (PRWEB) October 04, 2011
"We are excited to create a educational promotion with the Washington Nationals closer Drew Storen to build awareness on the importance of learning to pitch using your stronger lower body muscles said John Miller, president, of Sports Power Drive Inc. Drew just ended a highly successful season in the major leagues with 43 saves which was 6th best in major league baseball. This is a great accomplishment in his first full season in major league baseball, added Miller. Being successful as a smaller framed professional pitcher who just two years ago was pitching in college helps create awareness of pitching from the ground up. So many young pitchers depend on throwing with their arm vs. starting the pitch from the ground up with their stronger muscles. This ground force reaction creates energy that is transferred into the arm which is the final link of the kinetic chain Miller said.
We will produce a limited number of the Pitchers Power Drive Youth signature models with Drew Storen's jersey number to bring awareness on the importance of pitching with the lower body, Miller said. The silver youth model will have Drew's red number 22 with matching red foot placement friction tape as shown in the picture. Each signature model will come with a Drew Storen 8x10 autographed power photograph. The signed photo will show Drew demonstrating the use of his lower body on the Pitchers Power Drive. This Youth Signature model will be produced for October only and will be limited.
The photograph shows in detail Drew using his hips and lower body. This will help young pitchers to visualize how important it is to use the lower body and hips in their own pitch delivery. The auditory click feedback produced by the Pitchers Power Drive tells the pitcher they are leading with their hips the correct way which the Drew photo demonstrates.
All of the Youth Signature model owners will have access to a web base training site which is updated often with new drills from professional trainers and coaches. Miller said "having access to our training site will assist the youth pitchers in their development through additional training and continuous learning.
Miller said, teaching pitchers to lead with their hips from knee lift produces what we refer to as backside initiation. This means the lower and upper bodies are working in sync together to produce the most explosive delivery. This all starts with the correct departure from knee lift by leading with the hips and lower body. Miller added this maximizes velocity potential and helps to take the stress off the arm and shoulder. Having Drew demonstrate this shows how he pitches at the professional level and continues working on Pitchers Power Drive to reinforce his lower body mechanics.
Miller said "it is very important to help pitchers achieve success while staying healthy". Drew Storen continues to help us educate pitchers of all ages to use their stronger lower body muscles which will help their performance and arm care.
The Pitchers Power Drive increases pitchers velocity potential by teaching hip lead with the head and knee positioned over foot to set pitchers weight back. It also teaches proper weight transfer and balance with the pitchers natural momentum delivery. See live video of pitching 60'6" on the Pitchers Power Drive at http://www.sportspowerdrive.com it demonstrates the teaching strengths of the Pitchers Power Drive for youth and high school pitchers.
About Pitchers Power Drive
Sports Power Drive is based in Holliston, Massachusetts. They are the developer of the US patented Pitchers Power Drive Professional / Collegiate model and the Pitchers Power Drive Youth model. They also designed the Hitters Power Drive and Softball Power Drive. The design of the Power Drive Training Aids comes from their extensive experience working with and training pitchers and hitters at their Winning Pitchers Baseball Academy. Pitchers Power Drive is a trademark of Pitchers Power Drive. To learn more about Pitchers Power Drive visit the http://www.pitcherspowerdrive.com You can also follow Pitchers Power Drive on Facebook, Pitchers Power Drive on Twitter, Pitchers Power Drive on YouTube, and on the Pitchers Power Drive Blog.
###