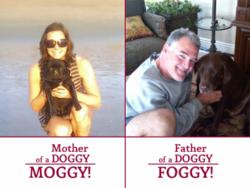 Dog Owners Get Their Very Own Holiday!
Los Angeles, CA (PRWEB) October 04, 2011
Moggys, Foggys, and a New National Holiday.
National Holidays - an entire day dedicated to the recognition of past influential leaders, hard-working citizens, loving mothers, fervent fathers, and of course, dedicated "Moggys" and "Foggys." Ok, although the day honoring Mothers of Doggys (Moggys) and Fathers of Doggys (Foggys) may not have national recognition quite yet, you are of the first to learn of the celebration and community completely devoted to the bond between you and your pup.
Whether you have kids and consider your furry friend one of kin, or the only kids in the family happen to be of the canine kind, MoggyFoggy.com (and their Facebook page facebook.com/MoggyFoggy) provides a platform to discuss experiences, share photos and swap advice on topics ranging anywhere from what to expect when shopping for the perfect pup, to pedigree behaviors, to just sharing fun photos and videos to help another with their daily chuckle quota. MoggyFoggy is a community of dog-loving Moggys and Foggys who truly share the enthusiasm and sense of community which all dog owners have.
MoggyFoggy also offers information on the latest products in the 4-legged world, fun activities, events and contests to win great prizes for you...and your pup.
The three entrepreneurs who started MoggyFoggy realized that there needed to be a special day honoring these human "parents" of dogs. Moggy's Day and Foggy's Day was born. Appropriately set on each calendar year as the day before Mother's Day and Father's Day respectively, the annual holiday recognizes the tough work and lots of love involved in raising your pride and joy into a loving, loyal, trick-on-command canine. "We wanted to create a community and day that expressed the love we have with our dogs. We feel there a many people who share this deep bond with us and hope collectively we can have a day that recognizes that," says Chris Smith, Director of Brand Development.
Jump on Facebook and join the MoggyFoggy club (http://www.Facebook.com/MoggyFoggy), or create a profile on MoggyFoggy.com, because whether you have one doggy or five, the MoggyFoggy community is your haven to record, share and celebrate the thrill of Moggyhood and Foggyhood.
About MoggyFoggy:
MoggyFoggy is a community of proud and devoted "parents" of doggies that welcome Moggys and Foggys from around the world to share, connect and celebrate the special bond between Moggys, Foggys, and their pups.
For more information, interviews, and affiliate information, please contact us @ info(at)MoggyFoggy(dot)com.
###