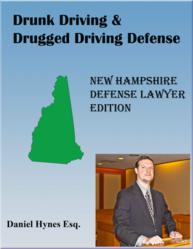 Nashua, New Hampshire (PRWEB) October 03, 2011
Dan Hynes, a DWI Lawyer in New Hampshire, has recently published the book "Drunk Driving & Drugged Driving Defense in New Hampshire". This 300 page DWI Manual is a how-to guide for practicing criminal defense lawyers. Topics include DWI Penalties, a break-down of DWI detection for both alcohol and drugs, numerous defenses to driving while intoxicated, and even a couple of transcripts.
Table of Contents:
1. New Hampshire DWI Laws
2. Implied Consent Statute
3. Administrative License Suspension Hearings
4. New Hampshire DWI Penalties
5. Sentencing & Collateral Consequences
6. Appeals & Vacating a Plea
7. DWI Criminal Procedure
8. Alcohol Information
9. DWI Detection of Alcohol
10. DWI Detection of Drugs
11. Chemical Tests (Breath, Blood, Urine) & Defenses
12. DWI Defenses
13. Trial Tactics
This book is available for purchase at http://www.nhdwiguy.com/dwi-book.html . Please note, it is presently only available to criminal defense lawyers.
For drivers who are charged with driving while impaired, Daniel Hynes has also published a version of the book aimed at people who have been accused of Driving while intoxicated in New Hampshire. This book covers the various DWI Laws and Penalties in N.H., an overview of the Court process, and numerous defenses to DWI. New Hampshire has very strict DWI penalties. A conviction will include a criminal record, mandatory fines, and a mandatory license loss. Further, a second offense DWI or Aggravated DWI has a penalty of mandatory jail time if the person is convicted. With so much on the line, Attorney Hynes aims to help people get the best possible result.
The book also includes a chapter to help people avoid being charged with DWI. However, this book is not a how-to guide on how to drive drunk and get away with it. The chapter is meant as a guidance to let drivers know what police officers are looking for when they are looking for drunk drivers. Attorney Hynes gives the book away for free to all of his clients who request it.
The author, Attorney Hynes, is well known as the N.H. DWI GUY. Attorney Hynes has dedicated his career to helping people charged with all types of criminal charges. His practice is presently limited to defending people accused of DWI/DUI in New Hampshire. He has offices in Hudson, Portsmouth and Nashua, and serves the entire state of New Hampshire. Attorney Hynes has helped more than 100 clients charged with DWI in the last few years. Attorney Hynes' training includes being a certified field sobriety test instructor, training related to DWI-Drugs, and numerous seminars. The DWI GUY owns an Intoxilyzer 5000, which is the present breath test machine used throughout New Hampshire. For more details visit his website at http://www.nhdwiguy.com or give him a call for a free phone consultation.
For interviews or additional release information please contact Dan Hynes at (603) 674 -5183 during normal business hours.
Contact Information:
Daniel Hynes
5 ½ Mulberry St.
Nashua, NH 03060
(603) 674-5183
###