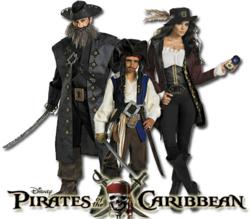 TotallyCostumes.com has made finding licensed Pirates of the Caribbean costumes and accessories from the movie series easy for shoppers.
Mancos, CO (PRWEB) October 01, 2011
Pirates of the Caribbean costumes are in stock and ready to ship at TotallyCostumes.com, an online retailer of costumes and accessories. They are happy to be able to offer a large selection of pirate costumes in time for the October 18th Blu-Ray and DVD release of Pirates of the Caribbean: On Stranger Tides.
TotallyCostumes.com has made finding licensed Pirates of the Caribbean costumes and accessories from the movie series easy for shoppers. Their newest styles include characters from the Pirates of the Caribbean 4: On Stranger Tides film. The consumer can look for the chalice in the pirate Angelica costume, get into mischief in the Captain Jack Sparrow costume, look for the Fountain of Youth in a Blackbeard costume or look for an exciting new adventure in an Elizabeth Swann costume. Pirates of the Caribbean costumes are available in sizes child, tween, teen, adult and plus.
The Sassy Jack Sparrow Costume allows women to step into the pirate boots of the well-loved captain. This sexy version of the Jack Sparrow Costume includes a satin-like white dress with v-neck and dramatic collar, attached long blue crushed panné vest, attached double belt with decorative large buckles and striped waist sash, maroon red bandanna headband and brown pirate boot covers to bring plenty of sexy, sassy attitude to the lovable pirate character.
The Deluxe Blackbeard Pirate Costume was designed after the outfit worn by Ian McShane during the movie. The deluxe Blackbeard Pirate Costume includes a long black jacket featuring gray trim accented with buttons and gold trim detail and gray cuffs with tattered gauze detail, grayish-black beard and moustache facial hair, faux leather baldric shoulder strap with decorative silver buckle, black belt with decorative gold buckle and a black tricorn pirate hat with button accents. It is an authentic replica that is licensed for the 2011 Pirates of the Caribbean: On Stranger Tides movie.
The Angelica Costume for kids and adults is available in a prestige, deluxe and classic style depending on what price point customers are looking to stay within. The Prestige Angelica Pirate Costume includes a white gauzy peasant shirt, black faux leather waist corset with gold trim, long paisley vest, maroon red jacket with faux leather lapels, belt with decorative buckle, black pants, pirate boot tops and a black hat with buckle accent and feather. In the movie, Penélope Cruz portrays Angelica Teach who is the daughter of Blackbeard. Women and girls can add in her sassy attitude and wild spirit for a complete Pirates of the Caribbean Angelica Costume.
The Pirates of the Caribbean costume accessories offers a selection of items shoppers can use to enhance their character. TotallyCostumes.com makes an effort to carry as many pirate accessories as possible so that their customers can create a unique and detailed character that is all their own. The Pirates of the Caribbean accessory collection includes Jack Sparrow beads, Jack Sparrow wigs, pirate hat, Fountain of Youth accessory kit, Jack Sparrow pistol, Angelica necklace and ring set, Sword of Triton and pirate goatee to name a few. The complete collection of Pirates of the Caribbean accessories allows customers to create a detailed cosplay of their character.
About the Company:
TotallyCostumes.com, a leading retailer of pirate costumes and costume accessories for all occasions, makes sure the party never stops! This e-commerce costume retailer believes in carrying a large selection of high quality costumes in all sizes, styles and themes to fulfill any party, costume or event requirement. They have a dynamic team that works together so their customers receive their order quickly. Their friendly customer care team is dedicated to providing their customers with diligent service while their shipping facilities work efficiently in shipping your order out as quickly as possible.
# # #