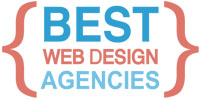 The Best Web Design Companies Ranked by bestwebdesignagencies.com for October 2011
(PRWEB) October 04, 2011
bestwebdesignagencies.com, the independent authority on web design and development agencies, has released their monthly list of the top 30 web design companies in the United States for the month of October 2011. The evaluation conducted has involved thousands of design companies in the United States while utilizing a set of evaluation criteria which identifies key aspects of quality web design services to gauge the performance of each web design firm. A research team performed various tests and evaluations of web design companies to determine which thirty web design services provide the highest quality service based on the core principles and a dedication to customer satisfaction.
The Top 30 Web Design Companies for October 2011 are:
1) WebiMax
2) Web312
3) Clikzy Creative
4) Customer Magnetism
5) Hudson Horizons
6) OneIMS
7) 1SEO.com
8) RazorIT LLC
9) 61designstreet
10) Ciplex
11) 3 Roads Media
12) DeepBlue
13) 123triad.net
14) The Berndt Group
15) Dot Com Infoway
16) 2r creative
17) Holbi.co.uk
18) 561 Media
19) Lounge Lizard
20) 2 Fish Group
21) Studio 7 Designs Inc.
22) 70plus2 creative design
23) HypeLife Brands
24) 352 Media Group
25) EffectiveUI
26) 809 Design Studio
27) 118id
28) Pear Logic, LLC
29) Oxygen Productions
30) Artworks Design, Inc.
The companies found on the list have been evaluated using a process which has each company measured based on the evaluation criteria published on bestwebdesignagencies.com. New research is provided every month on new companies and companies which provide their latest developments, clients, and proprietary technology and solutions to bestwebdesignagencies.com. Through the process, at least three client references for each evaluated web design company are contacted to understand their experience and to ensure a high standard of customer satisfaction is maintained. The design principles, methodologies, and core leadership are all examined during the evaluation to be included with the evaluation criteria to generate the list of the best web design agencies.
ABOUT bestwebdesignagencies.com
bestwebdesignagencies.com is an independent research firm with a dedication to providing a list of the best web design companies and web development firms in the industry. Through meticulous research and developed methods for evaluating and ranking companies, bestwebdesignagencies.com has provided customers of web design and development services with a great resource to find a top performing web design company. Evaluations are carried out by a specialized team of researchers who examine thousands of applicants each month. bestwebdesignagencies.com provides their rankings free of charge to companies and individuals searching for a quality web design firm or looking for other design and development services with updates being provided on the first of each month. The website also provides information and resources for those looking to learn more about web design and development services.
Web Design Companies interested in applying for the evaluation and ranking services can visit:
http://www.bestwebdesignagencies.com/rankings/web-design-agencies/apply-for-ranking
To learn more about the Best Web Design Companies for October 2011 visit:
http://www.bestwebdesignagencies.com/rankings-of-best-web-design-companies
###