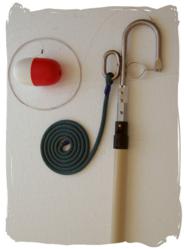 It's safe and it is easy to use. We never have to leave the helm or cockpit. The Mooring Mate is fabulous. Captain Albert, KeyWestSailingAdventure.com
Annapolis, MD (PRWEB) October 06, 2011
Duarte Marine leading provider of boating equipment that makes boating safer and more fun, today announced the debut of The Mooring Mate, a patented device allowing single-handed mooring from the safety of your cockpit. Duarte Marine is debuting the Mooring Mate while at the 2011 Annapolis Sailboat Show.
"We have all been there, trying to tie up on a mooring in rough conditions or while boating solo, it is not easy and can be very dangerous" said Helder Duarte inventor of the Mooring Mate. "We designed the Mooring Mate to let you safely moor your boat without leaving the cockpit or helm so you can relax and have more fun.
"It's safe and it is easy to use" said Captain Albert, owner of KeyWestSailingAdventure.com, "In a storm or bad weather it is essential to have a safe and easy system of operation. We never have to leave the helm or cockpit. The Mooring Mate is fabulous".
The Mooring Mate's revolutionary patented design prevents the system from becoming tangled on a mooring line and can be easily retrieved with a tug of a trip wire on a small buoy. For more information visit Duarte Marine at the 2011 Annapolis Sailboat Show in Tent L Booth 13 or online at http://www.duartemarine.com
###