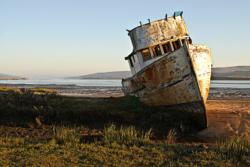 Female elk are sexually mature by two years of age, although they may be able to breed as yearlings. Nearly all female elk will reproduce during their lifetime. A female is likely to have six to ten calves in her lifetime.
San Francisco, CA (PRWEB) October 01, 2011
It's the time of year where everyone struggles to find activities when weather becomes a bit cooler and summer activities wind down, notes the Chamber of Commerce for Point Reyes. Point Reyes in the fall has activities unique to the seasons that all can take advantage of with ideal weather.
Tule Elk Annual Rut Season
The tule elk began their annual rut season back in august, but it will continue well into fall. Make sure to witness the larger males sizing each another and establishing harems. On weekends, docents set up scopes at Tomales Point to get a closer look.
The tule elk is a subspecies of elk that is unique to California. Nearly hunted to extinction during the gold rush, the tule elk received federal protection in 1971. Pierce Point, the north point of the Point Reyes Peninsula, is now a 2,600 acre reserve for the tule elk. In the fall, it is a warm, beautiful hike with the opportunity to see the elk rut season. Visitors are likely to hear bull elks bugle, spar and try to form their harems of females.
Kayaking, Tours and Bird Watching
Make sure to get outside and get some exercise in. There are activities for all levels of fitness and experience. Here are some ideas to keep you in shape going into the holiday season.
Kayaking
The most popular area for kayaking at Point Reyes national seashore is on Tomales bay. Tomales bay is a 24-kilometer (15-mile) long, 2645-hectare (6780-acre) tidal water body located in rural west Marin County, California. It is the largest unspoiled coastal embayment on the coast of California. The bay is bounded largely on the west by the Point Reyes national seashore. Adjacent communities include pt. Reyes station, Inverness, Tomales, Marshall, and Dillon Beach in the north where Tomales bay meets bodega bay.
Kayaking is also permitted on Drakes Estero and Limantour Estero from July 1 through February 28. To protect harbor seals from disturbance during the most crucial part of the pupping season, from March 1 through June 30 the national park service closes Drakes Estero and Limantour Estero to boating. Pelican point, Duck Island and the east side of hog island are closed to the public year round.
Tours
Be sure to check out the dates for the upcoming walks and tours around point reyes. Some of the scheduled events this fall are:
Kule Loklo Walk
Bear Valley Visitors' Center
This leisurely 1.3 kilometer (0.8 mile) tour starts at the bear valley visitors' center and introduces visitors to the Coast Miwok culture. The tour lasts 1 to 1.5 hours.
Tour of Cowgirl Creamery
Held every Friday at 11:30 a.m. The tour consists of a 25-minute presentation, followed by a tasting of cowgirl creamery cheeses. The charge for the tour is $3 per person and reservations are recommended.
Bird Watching
For bird watchers, it's always worth a stroll to Abbotts Lagoon, where you may be able to find migrating birds.
# # #