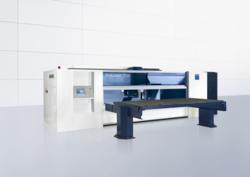 We are selling stainless wire baskets all over the world. Signing Free Trade Agreements will allow me to hire more locals to export baskets to Korea.
Washington, DC (PRWEB) October 04, 2011
The House of Representatives Committee on Foreign Affairs held a hearing Friday, September 23, entitled "Job Creation Made Easy" to discuss pending Free Trade Agreements with South Korea, Panama, and Colombia. A member of the Executive Committee of the National Association of Manufacturers, Drew Greenblatt, President of Marlin Steel, testified before the committee, urging immediate implementation of Free Trade Agreements with the three countries. Speaking on behalf of the nation's largest industrial trade association, representing small and large manufacturers in every sector of American industry, Greenblatt stressed the importance of removing trade barriers between the United States and its trade partners. He emphasized, "Opening foreign markets through trade agreements is a key way to drive growth in America." Passing legislation in support of trade liberalization will result in growth in jobs and will "strengthen the middle class and help America rebound from a deep recession. We will hire more local unemployed steel workers to make wire forms and wire baskets."
As president of Baltimore-based Marlin Steel Wire Products, a leading manufacturer of custom wire baskets, wire forms, and precision sheet metal fabrication assemblies, Greenblatt acknowledged the paramount importance of foreign markets in the continuing success of his company. "When I bought the company in 1998," he said, "we did about $800,000 in sales with 18 workers. Last year was our most successful one as a business. We did $3.9 million in sales, exporting to more than 35 countries." An exemplary case of success in the American manufacturing sector, Marlin Steel won the admiration of at least one Representative. "Thank you, Mr. Greenblatt," said Committee Chairwoman Ms. Ros-Lehtinen in response to his testimony. "A manufacturer- go figure, incredible- in the US and still growing. Wow."
With custom wire basket orders from pharmaceutical, aerospace, industrial, and automotive industries around the world, Marlin Steel must invest heavily to stay competitive in a global market. This investment is continuing and necessary. When it comes to production floor talent, Marlin hires locally. To retain skilled workers, the company not only offers first-rate health insurance to its employees, but full college tuition support as well.
Speaking to the detriment that import tariffs and foreign government favoritism has on American manufacturers, Greenblatt reminded America's policy makers of the incredible opportunity that awaited them. "These agreements represent nearly 90 million new customers for American goods, services, and farm products. I have had success selling my products around the world," commented Greenblatt, "but cutting tariffs and non-trade barriers- as these agreements do- give me a huge competitive advantage over my competitors. That advantage is also available to tens of thousands of small manufacturers and exporters in every state of this country."
Dispelling the portrayal of the American manufacturing sector as a dying industry, Greenblatt provided statistical evidence of the importance that manufacturing continues to have in the United States, in addition to the case study of Marlin Steel Wire Products. Having exported $4.8 trillion in products last year and producing one in every five dollars of all manufactured goods in the world, the United States is still the largest global manufacturing economy. The manufacturing industry alone employs an estimated 18.6 million people in the United States. A testament to the future of trade, exports are now 20% of US manufacturing production with export rates growing at five times the rate of shipments within the domestic market.
Pointing to the trade surpluses that have developed between countries the United States currently enjoys FTAs with and the growing deficit between those that do not, Greenblatt stated, "Standing still on trade agreements is more accurately described as falling down." This is in reference to the fact that, since the last free trade agreement with Peru passed in 2007, Canada, The European Union, Japan, and Korea have created or are in the process of negotiating nearly 40 separate trade agreements with almost 100 countries.
Greenblatt culminated his testimony in support of the Free Trade Agreements by describing to the committee the incredible potential that such legislation would create, pointing out that, "The NAM estimates that a robust program of FTAs with significant trading partners could generate as much as an additional $100 billion in US exports by 2014- accounting for one third of the $300 billion incremental increase above normally-expected exports needed to reach the President's stated goal to double exports by that point." In order to reach an additional $100 billion of exports every year, the 18.6 million people already employed by the manufacturing sector are going to need some extra helping hands.
Marlin Steel Wire, established in 1968, manufacturers wire baskets, wire forms and sheet metal fabrications in the USA. Growing rapidly and investing in more robots, Marlin Steel is focused on quality, engineered quickly.
###