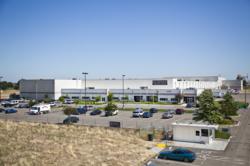 There is considerable confusion in the United States regarding the best e-recycling standards and practices. We chose to go with the strictest standards so our customers don't have to worry." Jim Taggart, chief executive officer, ECS Refining
(PRWEB) October 03, 2011
ECS Refining, the industry leader in electronic recycling and end-of-life services, is announcing exciting news regarding its high tech, e-recycling facility in Stockton, California. The industry innovator's 263,000 square foot Stockton processing facility has been certified for the e-Stewards' "Standard for Responsible Recycling and Reuse of Electronic Equipment®." This fully accredited, independently audited certification program ensures that e-waste will be responsibly, domestically, and accountably recycled.
"With our electronics processing facilities now being e-Stewards Certified, customers can be assured that we are completely committed to responsible, domestic recycling," said Jim Taggart, chief executive officer, ECS Refining. "There is considerable confusion in the United States regarding the best e-recycling standards and practices. We chose to go with the strictest standards so our customers don't have to worry. It's a win-win for consumers, businesses and the environment."
The e-Stewards Certification developed by the Basel Action Network (BAN), a non-governmental organization, is the most comprehensive in the world. Companies pursuing e-Stewards Certification are subject to extensive and rigorous audits to ensure they comply with the e-Stewards Standard and also have an ISO 140001 environmental management system in place. By adhering to the top environmental and socially responsible practices regarding the recycling of hazardous electronic materials, ECS Refining, a 30 year old enterprise, continues to provide customers the most ethical and cost-effective practices in the industry.
"Having an all domestic electronics recycling capability is not something many of our competitors can claim. Additionally, ECS is unique in being able to process the entire material stream under one roof. Consumers, OEMs, state/local governments, and businesses are getting on the bandwagon to require this type of capability," said Marci Rodgers, marketing director, ECS Refining. "We're also delighted that we can provide employment to hundreds of talented workers in the San Joaquin Valley. Keep an eye out for news regarding further expansion of our industry leading capabilities in the near future."
About ECS Refining
ECS Refining is a national electronic waste recycling and end-of-life services company with locations in Santa Clara, Stockton, and Gardena, California; Medford, Oregon; and Mesquite and Terrell, Texas. For over 30 years, ECS has provided recovery and refining, asset management, and resale services to attain maximum recovery value for clients, while maintaining environmentally sustainable results. We provide recycling solutions for a wide variety of electronic, industrial and hazardous materials, and are committed to applying smart and planet-friendly solutions for our customers. For more information about our operations, and the latest news from ECS Refining, visit http://www.ecsrefining.com.
###