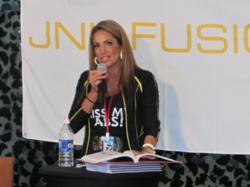 New York, New York (PRWEB) October 03, 2011
Jennifer Nicole Lee has been noted as one of the world's most accomplished top fitness models and international wellness, lifestyle, and beauty icons. With over 45 magazine covers in under 4 years, "JNL" has become the go to guru on glamour, fitness and health, building her brands on her success of her weight loss journey. With so many columns of accolades, and being a highly sought after super fitness model, it only seemed natural that JNL penned a book based on her secrets to a sexy, strong, sleek physique. This 36 year old married mom didn't stop there. In her "Fitness Model Diet" book, she also revealed her top trade secrets to time management, make up tips, healthy fat blasting recipes, including a private look into a week in her life chronicled in a diary format, as she writes her own true experiences in first person. With so much priceless information in between two hard covers, its no wonder that this book has been an overnight hit in the health, wellness, and fitness industry, including being inside the swag bags of all top celebrity events.
In honor of this mega hits one year anniversary this October 2011, JNL and her team are going above and beyond with key note speaking engagements, free book give aways, special celebrity appearances, book contests, plus so much more. JNL and her team will update all via her own official YouTube channel at http://www.JNLYouTube.com
When asked how it felt to touch and inspire so many with this best seller, JNL replied "I believe in not waiting on inspiration, but rather seeking it out. This book is a must have if you desire to build up your motivational muscle, learn about my top fitness model workouts that really work, want to get female muscle tone, learn about food plans, and also finally master your mindset. This book is my gift to so many women who didn't have a blue print of fitness and beauty success at their fingertips. Now they have the go to source of all things that matter so a super fitness model, and they can get instant inspiration and information-from my own trial and error. I have taken out all of the guess work, giving my 'sisters' their own womanly empowerment that is a timeless classic."
With the successful sales of the hard copy book, JNL went into the recording studios to record the audio version of the book, available for download at http://www.JNLAudioBook.com
This second book by JNL will not be the last she says. "I love to write, share, and empower. My third book, which is a healthy every day gourmet cook book with a fun spin will awaken the gourmet chef inside all of us, allowing us to really eat and enjoy food through celebration, not deprivation . Some of my all-time favorite recipes are in there, which have been reinvented to be healthier, and also chock full of super food ingredients, which are anti-aging and energy boosting." The Jennifer Nicole Lee Fun Fit Foodie will be out January 2012.
For more information, please visit http://www.JenniferNicoleLee.com
###