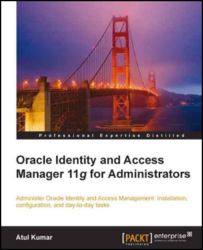 Birmingham, UK (PRWEB) October 03, 2011
Packt Publishing has announced the book and ebook publication of Oracle Identity and Access Manager 11g for Administrators - a focused title that will help Oracle Admins quickly and reliably manage user information on multiple systems and applications. Oracle Identity Management allows enterprises to manage the end-to-end lifecycle of user identities across enterprise resources both within, and beyond, the firewall. Applications can be deployed faster, can automatically eliminate latent access privileges, and much more. Written by Oracle ACE Atul Kumar, of onlineAppsDBA.com fame, this book teaches readers how to configure authentication/authorization schemes, resources, and host identifiers and application domains.
The book helps readers to get started with Oracle Identity Manager and Oracle Access Manager using both command line and console methods. It enables readers to understand key files including configuration and logs, and the directory structure which is useful for troubleshooting and configuration purposes. Additional content includes registering agents such as WebGate, AccessGate, and OSSO Agents with OAM Server using the Administration Console and Remote Registration Tool, and the configuration of password policies, attributes, and scheduled tasks in OIM. With step-by-step installation and configuration instructions, readers will also learn about Session Management in OAM 11g.
IDAM or Database administrators looking to carry out administration tasks which include installation and configuration will find this book to be an interesting and valuable read.
Packt Publishing is one of the world's foremost publishers of Oracle books having published oodles of Oracle titles across a wide variety of topics areas including the Database, Fusion Middleware and Business Applications. Packt Publishing offers all titles in hardcopy, eBook and online Library formats. Packt recently launched an Oracle library subscription, and are currently running a competition where entrants stand the chance of winning 1 year's free subscription to the service through Packt's free-to-enter Oracle Competition page.
# # #