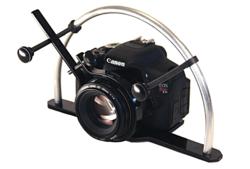 It's like an extension of the camera.
Scottsdale, AZ (PRWEB) October 05, 2011
"After countless emails, conversations, and invitations to film sets, we have listened to independent filmmakers and designed a simple and cheap follow focus accessory for HDSLRs. It's like an extension of the camera," says Senior Executive of ArchRig, Craig McMahon. The Arch, like its sibling the ArchRig, allows the cinematographer to visually see all the focus points. "There is something to be said about seeing the subjects and the focus marks simultaneously."
The Arch is compact, light weight, yet solid. Unlike the ArchRig, however, the Arch is a simplified version that does not include the handheld rig. The Arch and its base encompass the DSLR to provide a reliable and lockable follow focus system. An assortment of various size Lens Levers are also available for $24.95.
Besides being easy on the pocket book, The Arch lends a helping hand to the independent filmmaker looking for an affordable alternative to follow focus their HDSLR. With all the costs involved in making a movie, $179.00 is a very reasonable price for what you get with the Arch. The Arch also comes with 3 Lens Levers that cover a wide range of lens sizes available today. The company also claims they are keeping in constant contact with the public via ArchRigHelp(at)yahoo(dot)com to create custom setups upon request. McMahon states, "We encourage filmmakers and photographers to design the right arch or rig to suit their individual needs at very excellent prices."
The Arch and camera seem to work in unison. Instead of removing the camera from a tripod, one would remove the Arch (with camera) to another stabilization accessory. The Arch actually integrates quite well with many third party configurations. Whether connected to a rail system, matte box, or simply attached to a tripod, the Arch is clearly an interesting new focus system that seems to fit in. One concern many HDSLR cinematographers have had is the confusion of all the mechanisms and workflow of all the accessories. The Arch appears to have simplified at least one of those aspects.
Although the Arch is not intended specifically for photography, some photographers have been utilizing its ability to snap recurring action shots. At the turn of a race track, for example, the arch allows one to snap a photo at a locked zoom out wide and then immediately to a locked close-up shot. Pre-determined focus locks are now ready when the racecar rips down the straight-away and then hits the turn.
The Arch is designed to work with the Canon T3i, T2i, 60D, 7D, 5D, Panasonic GH2 and others of similar size. Although The Arch can work with many zoom lenses, it is primarily designed for EOS fix-focal (Prime) type lenses. Camera, lens, and any third party accessories are not included with ArchRig products.
About ArchRig USA
ArchRig was developed after years of motion picture production. This company offers a simple and affordable solution to the unnecessary complexity of follow focusing systems. ArchRig has also created many other products, for more information, visit http://www.archrig.com
###