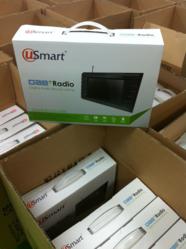 "KeyStone's proven track of record in the last 10 years and strong engineering background in digital broadcasting have clearly paved the path for others to follow," said CEO, Mr. Ben Wong at USmart.
Hsinchu, Taiwan (PRWEB) October 04, 2011
KeyStone Semiconductor Corp. (KeyStone), a fabless semiconductor developer of advanced digital radio technologies announced today that USmart, a leading electronics product maker in Hong Kong, powered by KeyStone's KSW8650 FM/DAB/DAB+ single-chip, has started shipment of world's first FM/DAB/DAB+ photo frames.
USMart's novel DAB digital photo frame features calendar, clock, alarm, photo album, MP3/WMA decoding, DAB/DAB+ receiving; moreover, it offers DAB/DAB+ dynamic label system (DLS) and color slide show with full-screen display. It also offers 2-watt stereo power output and a 3.5 mm headphone jack. With a 7" TFT LED backlight and an 800 x 480 resolution, viewing DAB slide show in full-screen has never been so clear and easy.
"We have been partnering with KeyStone in developing a series of new DAB products that aim to address new DAB applications over a year," said CEO, Mr. Ben Wong, at USmart Electronic Products Limited. "KeyStone's strong engineering background and advanced technologies in digital broadcasting have clearly paved the path for others to follow. We are glad to partner with them to continue introducing new low-cost digital radio products."
USmart's DAB digital photo frames along with other new wireless digital radio product demonstration will be available at KeyStone's private suite at Renaissance Harbour View Hotel during Hong Kong Electronics Fair from October 13 to October 16, 2011. For more information on KeyStone's digital radio Tsunami family, product roadmap, product applications, and patented wireless digital radio technology, please send your inquiry to contact(at)KeyStonesemi(dot)com.
About KeyStone
KeyStone Semiconductor Corp. is a technical innovator and leader in wireless digital radio semiconductor. Company is dedicated to providing a series of low-power and low-cost digital radio IC family for today's multimedia broadcasting market demands. KeyStone offers turn-key solutions from novel Apple and Android apps such as DAB GO!, FM GO!, POWER GO!, KEYSTONE to complete digital radio design platforms to reduce customers' time-to-market efforts.
KeyStone products enable the delivery of the enriched analog and digital multimedia contents to home and mobile environments. Company provides the industry with the lowest-cost system-on-a-chip turn-key solutions to manufacturers of analog and digital broadcasting access products and portable devices.
Company is funded by public and private entities and is headquartered in the Science-Based Industrial Park, Taiwan, and has offices and facilities in North America and in China. KeyStone can be contacted at +886.3.666.2756 or at contact(at)keystonesemi(dot)com.
About USmart
USmart Electronic Products Limited, established in 1994, specializes in the design, manufacture and distribution of computer peripherals, flash storage devices and home electronics. Our company's focus is on advanced technology, offering specialized products and component sourcing services. Sourcing from USmart Electronic for a variety of unique products combine superior quality components and functional technologies.
Our customers include Samsung, Hynix, Toshiba, Renesas, Spansion, Micron, etc., and we have a ISO 9001 factory to produce general electronics products such as DVD, DTV, digital photo frame, tablet, notebook, phone, DAB that satisfy CE, SGS and RoHS compliance.
Press Inquiries:
KeyStone Semiconductor Corp.
2nd Floor, 62 Park Avenue 2,
Science-Based Industrial Park,
Hsinchu, Taiwan 300
Office: +886-3-666-2756
Fax: +886-3-666-2758
Email: Contact(at)KeyStonesemi(dot)com
Web: http://www.KeyStonesemi.com
USmart Electronic Products Limited
Room 1703, 17/F., Tower 1, Enterprise Square,
9 Sheung Yuet Road, Kowloon Bay, Hong Kong
Tel: +852- 2389-7016
Fax: +852- 228-98921
Email: service(at)usmart.com(dot)hk
Web: http://www.usmart.com.hk
###