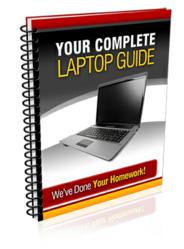 This Computer Checklist will make your purchase go more smoothly and can even help you avoid some costly mistakes.
(PRWEB) October 04, 2011
A new slideshow entitled "Handy Checklist For Buying Any New Computer or Laptop" has just been released by LaptopComputerGuide.org, a handy buyer's guide to purchasing a computer or laptop. This new slideshow will give potential shoppers a quick checklist of all the things one must check before buying a new laptop or computer.
Anyone viewing this informative slideshow will receive a quick education on all the different features one must check while considering a new computer. While somewhat technical in nature, these features or factors are presented in an "easy-to-understand" manner, which should aid potential customers with their purchase. A few minutes viewing this slideshow will definitely help these customers understand the computer basics.
"Buying any computer device can be intimidating for most people, especially if they don't have a computer background," states Titus Hoskins, a former teacher who now runs LaptopComputerGuide. "This checklist will make your purchase go more smoothly and can even help you avoid some costly mistakes."
Everything is covered from understanding RAM and how it works to what kind of Processor (CPU) one should look for when buying a current computer. Over 60 computer terms are explained and examples given to the viewer. Plus, detailed articles are linked for more further study - covering everything from the top rated netbooks to gaming laptops.
However, the main purpose of this Computer Checklist is to give potential buyers a quick and easy rundown of all the terms, features and specs to check before making a purchase. A quick refresher course on the basic components which make up a computer. This slideshow promotes becoming an educated buyer to save both time and money. Don't enter that computer store without this handy checklist.
It can be viewed here: http://www.bizwaremagic.com/computer_laptop_checklist.htm
About Us - LaptopComputerGuide.org is a handy online computer guide which is run in partnership with http://www.bizwaremagic.com, a popular site which covers all aspects of running a business, from marketing tools to corporate gifts to computer notebooks. This SlideShow was created by Curtis Hoskins, who runs http://www.bluray-dvd-players, a comprehensive site on Blu-ray players and devices.
###