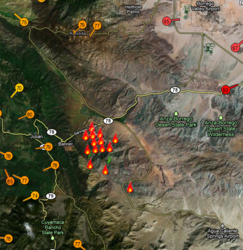 Firefighters can see pre-arrival information, know where houses are, evaluate escape routes, and make tactical decisions.
Dunsmuir, CA (PRWEB) October 02, 2011
On the afternoon of October 1st, The Great Fire in Rural San Diego County Broke out, just about the same time the team a FireWhat Inc got word that their mobile application was officially released to the world on the Apple iOS platform. The Mobile Application is helping Firefighters battle the inferno while providing state of the art technology to the field.
With the launch of the App, Firefighters on the Great Fire now have life saving information in the palm of their hand. The Great Fire is burning near the town of Julian, CA. Julian has had a long history of fires in recent past. As of 10:00 October 2, 2001, CALFIRE Reports the Great Fire is approximately 2,000 acres and is just 5% contained. With the info available from FireWhat's new Mobile App, Firefighters can see pre-arrival information, know where homes are, evaluate escape routes, and make tactical decisions from the scene or afar.
The staff at FireWhat has been up all night preparing and updating data to deliver a top quality product to the firefighters. With the constant change of information, the FireWhat app has to stay current. FireWhat has a dedicated staff to provide the most accurate and timely info possible. The team is constantly searching the internet, scouring government sites and news articles to deliver crucial data to the workers who need it most. Firefighters who are back at the fire station can access the FireWhat website (http://www.firewhat.com/fires/most-recent-fires) and obtain the same data as the FireWhat app.
The information on the website is relayed immediately over to the mobile application. Firefighters now have satellite imagery, street maps, topographical layers, hot spot tracking, resource information, evacuation info, and live weather as the incident is unfolding.
For more information about the FireWhat App, visit http://www.firewhat.com/app. You can now find the FireWhat App release 1.0 in the Apple App Store. The FireWhat App was created in part by the Folks at Pusher Inc. Without their help and knowledge, Firefighters would not have such a innovative life safety tool.
About FireWhat Inc. is a start-up company founded by an MIT grad and two professional firefighters. FireWhat's mission is to provide a professional platform that inspires the highest quality of emergency service training and education. Through development of web and mobile products, FireWhat Inc. seeks to update the antiquated delivery of emergency services training and to incorporate innovation into a technology-deprived industry.
About Pusher
Pusher offers custom web development, iOS app development and video, photo and music production. In addition, Pusher is actively involved with the Dunsmuir, CA community hosting workshops, dance classes, film screenings and live music performances.
# # #