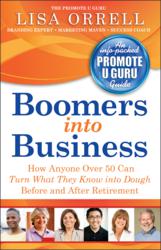 If you're a Boomer seeking ways to generate income, full-time or part-time, that is flexible, interesting, fun, possible to start on a tight budget, and do now and way into your golden years for more income, this is THE book for you!
San Jose, CA (PRWEB) October 03, 2011
Lisa Orrell, The Promote U Guru, an award-winning Branding and Marketing Expert, Certified Success Coach, Speaker and Author, has just released her third book, "Boomers into Business: How Anyone Over 50 Can Turn What They Know into Dough Before and After Retirement" (Wyatt-Mackenzie Publishing, Inc.). The book is now available on Amazon in both print and Kindle versions, and the demand is rapidly growing due to almost half of Baby Boomers not having a retirement plan that provides enough money to retire comfortably.
According to this 2010 report, The EBRI Retirement Readiness RatingTM: Retirement Income Preparation and Future Prospects, by Jack VanDerhei and Craig Copeland of EBRI.org: 47.2% of older Boomers (56-62) are at risk of outliving their retirement savings. And 43.7% of younger Boomers (46-55) are at risk of not having enough money for basic monthly expenses when they retire.
These sobering statistics have millions of Boomers currently wondering, "What can I do to generate income, full-time or part-time, that is flexible, interesting, fun, possible to start on a tight budget, and do way into my golden years?"
Orrell wrote "Boomers into Business" to answer those questions. Readers learn how to take what they know, from their career experience or hobbies, to develop a "topic expert" platform that can lead to consulting others, conducting training seminars online and offline, developing many strategies for on-going passive income, and much more. According to Orrell, it doesn't matter whether you've been an employee your whole career or whether you are currently self-employed. Nor do a person's education level, career background, or business experience matter. The book was written to take a lot of guesswork out of the process, and also contains strategies for marketing, branding, PR, social media and many other revenue generating ideas.
"Most everyone knows something, from their career background, life experiences or from a hobby that other people will pay to learn about. Whether you've been an HR professional your whole career, or a construction worker, homemaker, lawyer, Life Coach, housepainter, or a lover of growing roses, my book teaches Boomers how to monetize what they know to create a good income, in a wide variety of ways, as a topic expert," explains Orrell.
Orrell has already been receiving extremely positive feedback from early readers of "Boomers into Business":
"I'm now 50, a single mom with a teenage son, and I've worked at Title Insurance companies for over 20 years. I currently don't have enough money to retire comfortably in my 60's and have been trying to figure out what I can do make money on-the-side of my day job," says Kathy F. in San Jose, CA. " 'Boomers into Business' was a godsend! It opened my mind to possibilities I had never thought of before and I'm now developing ideas for an expert platform and consulting business that will provide me with the additional income I need to be more comfortable now and later in my life."
Orrell also hears from Boomers who are currently self-employed but benefit from the book because they learn how to expand on what they currently do for a living to increase their income.
"This book was so helpful, easy to follow and really fun to read! It's loaded with ideas that I can refer to again and again," shares Marilyn F., a 62-year old Boomer in Santa Cruz, CA. "I'm already self-employed but learned how I can expand my services to be much better off financially. Plus, I learned tons of new marketing strategies that are really effective. I highly recommend this book to any Boomers wanting to improve their financial futures or who are seeking ways to change their career path."
Based on Orrell's expertise and notoriety, she has been interviewed by, or written articles for, countless media, including: ABC, MSNBC, NPR, Wall Street Journal, NY Times, Cosmo, OPENForum.com, BNET.com and WomenEntrepreneur.com.
For media inquiries, to contact Lisa about her services, purchase her book, join her Promote U Mastermind Group, or to have her speak at an event, contact Lisa Orrell at: Lisa@PromoteUGuru.com, phone: 408-340-8789, or visit her website: http://www.PromoteUGuru.com
About the Author: Lisa Orrell, The Promote U Guru, is an in-demand Branding Expert, Marketing Consultant and Certified Success Coach with over 20 years of experience. And prior to starting this business she owned an award-winning Marketing Agency in Silicon Valley for 2 decades where she worked with clients ranging from technology startups to Fortune 500 companies. Recently she was voted the "Top 30 Most Influential Brand Gurus in the World", and she is also the recipient of over 75 awards for marketing excellence. Lisa works with small business owners, coaches, consultants, entertainers, academics, speakers and authors. Plus, she herself is the author of 3 business books and a professional speaker.
People follow Lisa's insights, tips and advice on Twitter @PromoteUGuru, through her Promote U Guru blog, on her Facebook Fan Page: Facebook.com/PromoteUGuru, and on her YouTube Channel: YouTube.com/ThePromoteUGuru. People also join Lisa's online Promote U Mastermind Group for on-going support to grow and build their small businesses.
Book Info:
Title: Boomers into Business: How Anyone Over 50 Can Turn What They Know into Dough Before and After Retirement (October 2011: Wyatt-Mackenzie Publishing, Inc.)
ISBN: 9781936214440
Pages: 214
Versions: Paperback & Kindle
Media contact:
Lisa Orrell
Lisa(at)PromoteUGuru(dot)com
(408) 340-8789
###