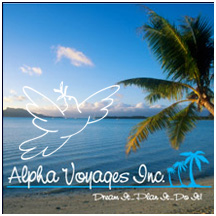 Dream It , Plan It, Do It
Winchester, Virginia (PRWEB) October 21, 2011
For Go Blue Ridge Travel, what makes it so exciting to work with Shenandoah Valley wedding professionals is that so many are working in a profession following a dream and passion.
Imagine having a career for 33 years. One would think that if one decides to leave this career, one is finished with working and will just put feet up and watch TV. For Mary June Williams, retiring simply opened a door to a new adventure. Years ago while Mary June (MJ) was teaching, this business professional had a dream that with retirement would be a life of traveling around the world. Today thirty years later, MJ is living that dream by owning a travel agency,Alpha Voyages, sailing and flying around the world. Last summer, MJ spent 34 days at sea on board Regent Seven Seas and Holland American Cruise Lines seeing the Baltic and Mediterranean countries. .
"When Alpha Voyages opened, the branding of the company was "Dream it, Plan it, and Do it." As this article is being written, Alpha Voyages's owner just returned from St. Lucia and Antigua inspecting Sandals properties on Sandals Resorts 2011 Mega FAM trip, flew to Boston for OSSN Home Based Travel Agent Forum, returned home this morning to leave at 3 am tomorrow morning for another FAM inspection of Sandals properties in Jamaica. Alpha Voyages will finish the inspection of all Sandals Resorts the first of December in the Bahamas and Turks and Caicos. Alpha Voyages will learn of the new changes to the properties so that Alpha's clients know the latest about Sandals Resorts and Beaches.
It was 1988 when MJ began the training necessary to open a travel agency working for Omega World Travel and taking courses in Tysons Corner to complete certification. Alpha Voyages, Inc. opened in 1996. Almost immediately, Alpha Voyages faced obstacles. The head of sales for Sandals for this DC metropolitan region told the agency in Winchester, Virginia that the agency would definitely fail based on the Shenandoah Valley not having the economic demographics to sell Sandals Resorts. Unforeseen was the move of the metropolitan population to the Shenandoah Valley over the next twelve years. The first thing Alpha Voyages's owner did was to become a Certified Sandals Specialist. This year, Alpha Voyages has been awarded the prestigious 'Preferred Sandals Travel Agency' status based on the number of bookings the agency has had in 2011. Sandals will wrap the company's van with the Sandals Caribbean logo free of charge. No other travel agency in a sixty radius of Winchester, Virginia has this award.
Does this mean that the owner of Alpha Voyages is ready to retire again? A business entrepreneur with a new focus, MJ wants to own a well rounded agency with 'Destination Specialists'. The company's desire is to achieve the national coveted PATH status which means having twenty-six (26) independent agents under Alpha Voyage's umbrella. Independent agents open their own businesses under the business umbrella and training arm of an establish travel agency. Alpha Voyages is a member of CLIA (Cruise Line International Association), TRUE (Travel Retailer Universal Enumeration), OSSN (Outside Sales Support Network), and Vacation.com featuring vacation vignette program. The owner of Alpha Voyages, MJ, is the Chapter Director for the OSSN - Blue Ridge - Virginia.
Alpha Voyages presently has twelve agents covering the Shenandoah Valley area as well as central Virginia. The owner of Alpha Voyages is aware that no one can be a specialist of the world so each one of Alpha's agents specializes in a travel destination. The company covers Asia, South America, Europe, Hawaii, Disney World, Cruises, Tours, and of course the Caribbean. Alpha's agents range in age from twenty five (25) to eighty five (85). Just like Alpha's owner, these independent agents have a passion for travel recognizing it will take years before earning a reasonable income. On each of the training trips, it is the norm to see at least two to three agents with the owner of Alpha Voyages since training is everything to the success of a travel agent.
As the owner of Alpha Voyages, MJ, walked around the tea room at the Fall Blue Ridge Bridal Show at the George Washington Hotel in Winchester, Virginia, it was obvious how professional and confident MJ was on the subject of wedding destinations with Sandals. "What I would like to do today for you, Blue Ridge Bride, is to help you "dream it, plan it, and do it. I want you to have a wonderful fun filled romantic honeymoon to wrap up your wedding dreams." MJ likes to walk around a seminar room and look at engagement rings of the brides. Just as the brides' engagement rings are different – the brides' honeymoon adventures will also be different. MJ believes that a bride and groom's honeymoon needs to be unique to the bride and groom's lifestyle. Perhaps this is why the owner of Alpha Voyages is so successful as a travel agent. The owner's service level and individual approach to the clients is why in this difficult economy Mary June Williams is succeeding as a successful entrepreneur.
###