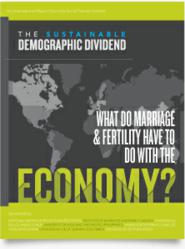 Most Americans of childbearing age think that having two or more children is ideal - Dr. Sam Sturgeon
Charllottesville, VA (PRWEB) October 03, 2011
From Demographic Intelligence, LLC - Even though the U.S. total fertility rate (TFR) fell more than 10 percent to below two births per woman on average from 2007 to 2010, ordinary Americans still believe that two or more children is ideal, according to a new report released today.
In the study, "The Sustainable Demographic Dividend: What Do Marriage & Fertility Have To Do With the Economy?", Dr. Sam Sturgeon, director of research for Demographic Intelligence, finds that the ideal family size for Americans of childbearing age (18-46) rose to 2.66 in 2010, even as the U.S. total fertility rate fell to 1.91 children per woman in 2010. In 2007, the total fertility rate was 2.13.
According to Sturgeon's analysis for Demographic Intelligence (DI), approximately 1.08 million babies will have been postponed or foregone from 2008 to 2011. Parents considering a second, third, or fourth child have been particularly likely to avoid having a child since the recession began in December of 2007. "Childbearing is partly an economic decision and clearly many couples feel like they cannot afford an additional child," said Sturgeon.
Nevertheless, the report indicates that Americans' ideal family size has risen from 2.39 in the late 1990s to 2.66 in 2010. "Even though couples and women are having fewer children today because of the fallout associated with the recession, most Americans of childbearing age think that having two or more children is ideal," said Sturgeon.
Indeed, the growing gap between Americans' fertility ideals and behaviors suggests that companies in the juvenile products industry may have cause for optimism. Demographic Intelligence, which provides fertility forecasts to companies working in the juvenile products industry and related sectors, is predicting increases in total U.S. births in both 2011 and 2012 as women try to recoup the fertility they postponed from 2008 to 2010. U.S. births fell from 4.37 million in 2007 to 4.01 million in 2010. "U.S. births bottomed out in 2010 and now seem headed up," said Sturgeon.
Major findings of the report include:
Among developed countries, over the next two decades, the United States will be one of the only countries to maintain fertility levels close to the replacement level of 2.1, and only if the U.S. economy does not stagnate or fall back into recession. For most of the last 40 years, about 25 percent of the change in the U.S. fertility rate from one year to the next can be attributed to changes in the economy, and the report includes new projections for U.S. birth rates under three separate economic scenarios: a quick economic recovery, a slow economic recovery, and no economic recovery. One reason U.S. fertility remains comparatively high is that Americans continue to value relatively large families, at least by the standards of the developed world.
Seven sectors of the U.S. economy are tied to "marriage and the baby carriage." Based on 2008 consumer spending data, in each of these seven sectors – child care, groceries, health care, home maintenance, household products and services, life/personal insurance and juvenile products – married parents spent at least 23 percent more per capita than childless singles. Translated into household terms, married parents spent at least 2.46 times more than did households headed by childless singles.
"The Sustainable Demographic Dividend" was released today by the Social Trends Institute and the National Marriage Project at the University of Virginia.
Demographic Intelligence, LLC is the premier provider of U.S. birth forecasts and U.S. fertility analytics for companies in the following sectors: Child Care, Financial Services, Food, Household Products, Insurance, Juvenile Products, Medical, & Retail. Through its reports and consulting services, DI enables analysts, brand managers, executives, and public officials to tap into the collective wisdom of the world's leading demographers. DI publishes The U.S. Fertility ForecastTM, which was 99.8% accurate in predicting U.S. births for 2010. This forecast, which is issued quarterly, provides detailed birth forecasts out to 2013 by education, race, and ethnicity, and global forecasts for total births out to 2025 by different economic conditions.
For information, to receive a copy of the report, or to schedule an interview with the report's authors, contact Steve Morales at 434-286-2275 or email Steve(at)USbirthrate(dot)com
Visit http://www.DemographicIntel.com
About Demographic Intelligence LLC
Demographic Intelligence (DI) provides demographic information, analysis, and consulting to companies and investors in the juvenile products, household products, and pharmaceutical industries. DI produces The U.S. Fertility Forecast on a quarterly basis, and also consults with companies interesting in exploring U.S. demographic trends in more detail. The president of Demographic Intelligence is Dr. W. Bradford Wilcox, who is also a professor of sociology and the Director of the National Marriage Project at the University of Virginia, where he studies trends in marriage and parenthood in the U.S. Demographic Intelligence is advised in its work by three leading demographers: Princeton economist Alicia Adsera, University of Pennsylvania demographer Hans-Peter Kohler, and Duke University demographer Philip Morgan.
CONTACT:
Steven Morales
Chief Operating Officer
Demographic Intelligence
(434) 286-2275
Steve(at)USbirthrate(dot)com
###