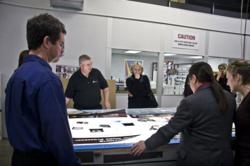 "We streamline the whole process for our clients, reducing the need to spend time searching and sifting through anonymous art submissions that typically don't meet quality standards."
Yorba Linda, California (PRWEB) October 04, 2011
OCDesignerSource.com, an innovative online resource center offering unique interior design products and services in the field of interior and exterior design, is pleased to announce the launch of their new art library for licensing for hospitality and publishing with their team of talented art providers. Headquartered in Yorba Linda, California, OCDesignerSource.com is the culmination of its two founders' 25 years of industry expertise and is a highly respected resource for interior design, serving consumers with the best, most reliable talents in the art and interior design industries.
At the forefront are owners Michele Preston and Michele Wiemann with a practical, pragmatic approach and just the right mix of creativity. They have recently teamed up with their new Art Director, Wendy Froshay, a multitalented artist and design manager with over 30 years experience in art, graphic design, and licensing. OCDesignerSource.com has also forged several strategic alliances which have helped them to create very complex commercial presentations when needed.
Their art division has a fresh strategy that has proven to be highly effective and is revolutionizing the way artists sell art and professionals find art. OCDesignerSource.com has put together its own team of established professional artists and photographers from all over the globe. These artists are mentored on the newest trends, technical aspects and business practices to be effective in the market of interior and architectural design industries. Froshay works with each of these artists to ensure that all work is presented and reprinted with consistency of high quality and meets industry standards. They also keep the artists up to date on what is successfully selling, giving them an opportunity to expand their body of work and make more sales.
Michele Preston, founder of OCDesignersource.com noted, "Our goal is to help talented artists succeed and make finding the perfect artwork simple, easy and reliable. We feel that as interior designers we can better communicate what the industry looks for in color, style, and size. We also have the ability to create new or modify current pieces for that perfect unique piece upon request." They have original fine art pieces, but also have printing abilities which can be applied to unique surfaces and sized perfectly for any project.
OCDesignerSource.com works with interior designers, architects, private collectors, alliances, and has been recently approached by publishers and other companies who are searching for high quality work to license on their products. They streamline the whole process for them, reducing the need to spend time searching and sifting through anonymous art submissions that typically don't meet quality standards. Interested companies are given a password to access the art library online to find what they are looking for, and set up a contract to license the artwork that meets their criteria.
Michele Wiemann, cofounder of OCDesignerSource.com, explained the value of their online library to clients, stating," We market many talented artists. Not all talents are seen in gallery settings and many consumers are looking for new, fresh work." They aim to share these unique pieces with a larger audience by marketing them online.
OCDesignerSource.com launched its new art library in September 2011. The company continues to focus on providing art for both commercial and residential interior design projects, as well as working with publishers to license art.
About OCDesignerSource.com
OCDesignerSource.com was created to bring the best, qualified interior design professionals to the public and actively partnering with superior quality trades, artists, alliances, and suppliers to improve the quality of life for residential, corporate, hospitality and healthcare clients.
Whether searching for professional interior design, talented trades, or unique art and products, the OCDesignerSource.com community is the place to find it. For more information, please visit http://www.OCDesignerSource.com.
OCDesignerSource.com Contact:
Michele Preston, CID President and Interior Designer
Michele Wiemann, Vice President and Interior Designer
949-391-6710
Public Relations Contact:
Tien Frogget, Marketing and Business Development
OCDesignerSource.com
949-391-6710
# # #