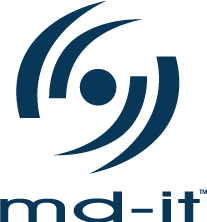 "There are too many systems out there that really force or pigeonhole physicians into using one specific method for clinical documentation and that's causing a lot of issues in healthcare today."
Boulder, CO (PRWEB) October 03, 2011
MD-IT, the leading provider of medical documentation software and technology to ambulatory clinics and physician groups, announced today new MTSO partner InHealth Clinical Documentation Solutions, based in Atlanta, Georgia.
"When talking to other platform providers, I would ask about a specific need in relation to clinical documentation and workflow, transcription workflow or dictation, and they didn't quite understand it because they didn't sell that," said InHealth's Director of Sales and Business Development, Scott Manwaring. "MD-IT understands what technology is relevant in our industry to remain competitive."
InHealth will offer the MD-IT Platform and EMR as a "premium package" for current and future clients that want to move to a comprehensive electronic medical record solution.
"What I really like about the MD-IT Platform is it's built around the workflow of the physician and I think that's paramount to everything," added Manwaring. "There are too many systems out there that really force or pigeonhole physicians into using one specific method for clinical documentation and that's causing a lot of issues in healthcare today."
InHealth shares the same philosophy as MD-IT, which is to preserve practice efficiency through the use of dictation. Through MD-IT's technology, discrete data can be extracted from the resulting narrative note, preserving the original thoughts and actions of the physician that can be utilized in a variety of ways.
"InHealth represents a unique opportunity given their national reach and scope," said MD-IT Senior Consultant Bobby Powers. "Not only do they bring 30 years of experience in clinical documentation and a diverse customer base, they have been able to successfully lead their clients through the turbulent changes in the healthcare industry."
After hastily adopting EMRs and trying to do away with a narrative note, Manwaring sees the industry incorporating partial-dictation back into the EMR workflow as a way to regain provider efficiency and allow for a richer, more comprehensive patient story. "We've got a lot of people coming to us as new customers that are currently on an EMR and they need help. A lot of physicians went to an EMR too fast, destroying their workflow and they need help getting their productivity back."
About MD-IT
Founded in 2000, MD-IT is the nation's leading provider of medical documentation software and service to physician practices and ambulatory groups. By developing dictation-based solutions that preserve the primary role of medical documentation, MD-IT empowers physicians to use narrative notes in any clinical environment where electronic medical records are part of the workflow.
About InHealth
InHealth Clinical Documentation Solutions is the industry leader for clinic-based physician documentation solutions. Headquartered in Atlanta, Georgia for more than 30 years, ICDS has built a reputation for providing custom solutions designed to streamline clinical documentation, improve physician productivity and accelerate EHR adoption. Our mission is to help physicians, in any size organization, document their patient encounters in the most efficient, meaningful, cost effective way possible using the latest advances in digital voice technology. By combining our fully integrated and EMR-enabled document management platform with our highly skilled and synchronized labor force, ICDS is able to offer an end-to-end clinical workflow solution that is second to none.
Contact:
Bobby Powers
Senior Consultant
MD-IT
Bobby(dot)powers(at)md-it(dot)com
(501) 303-7477
Scott Manwaring
National Director of Sales
InHealth CDS
scott(dot)manwaring(at)inhealthcds(dot)com
(770) 396-1896
# # #