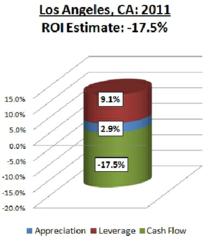 You cannot tax and regulate a state into prosperity, only poverty, said Jason Hartman.
Irvine, CA (PRWEB) October 03, 2011
According to wealth creation expert Jason Hartman, Los Angeles is in serious distress for real estate investing and is likely to experience continued difficulties before a recovery is in sight. California is currently in the midst of a far-reaching budget crisis resulting in dramatic cuts to many public services. The public pension fund is estimated to be $500 billion dollars under-funded which will require either tax increases, benefit cuts or both.
With a relatively high percentage of its population dependant on government services, Los Angeles is particularly vulnerable to cuts in the state budget. In addition, the tax and regulatory environment are extremely burdensome—this is expected to result in many businesses moving out of Southern California.
"Seeing the current anti-business political power structure held intact with last year's election, we don't expect to see any significant changes in public policy for California until it is too late for those policies to have a significant impact," said Jason Hartman, founder of Platinum Properties Investor Network and host of The Creating Wealth Radio Show.
Hartman explains that the heavy-handed regulatory climate pervades every aspect of life in California, from the Department of Corporations to its labor, building, environmental and taxing agencies. "The state makes it far too difficult for businesses to survive. It is no surprise that smart people and companies are leaving California in droves. I have been hearing the complaints from business owners for many years and they are just fed up, as California does not warrant the sacrifices necessary to sustain a business," adds Hartman.
The subject is covered extensively on KFI 640AM talk radio as hosts John and Ken, Tim Conway, Jr. and many others expose public employee unions and politicians who are draining state coffers at an alarming rate.
From an economic perspective, Hartman equates California as "the new Michigan"—where big government, entitlement programs and trade-restraining unions have devastated a formerly great state. "You cannot tax and regulate a state into prosperity, only poverty," said Hartman.
In terms of income property investing, Hartman believes that Los Angeles represents a generally poor market for long-term investment due to its price volatility and low rents relative to market prices. While values were temporarily stabilized in 2009 by government subsidies for first time home buyers, Los Angeles continued its regression to fundamentals in 2010 as the subsidies ended and the poor market fundamentals were exposed.
Despite a 16 percent year-over-year decrease in foreclosure activity, California posted the nation's second-highest state foreclosure rate this summer, according to RealtyTrac, with one in every 239 housing units with a foreclosure filing. Foreclosure rates in the Los Angeles area skyrocketed in the third quarter of 2011 as homeowners continue to struggle making their mortgage payments during a down economy. Around the Southern California region, foreclosure filings increased by an average of 60 percent per RealtyTrac. This increase is largely attributed to banks pushing a backlog of foreclosures through that had previously been stalled due to documentation problems. Bank of America, JP Morgan Chase and GMAC Mortgage announced earlier this year that they were suspending foreclosure sales while examining whether there were irregularities with documents filed as part of the foreclosure process.
As 2011 comes to a close, Hartman expects to see the Los Angeles area to continue to struggle before values creep up in future years, mostly due to inflation rather than real growth. For investors who capture this expected value increase, a net positive return on investment is possible; however, it may prove difficult to capture since the negative cash flows must be supported on a continual basis while the value appreciation is only captured when the property is re-financed or sold. In short, for income property investors, Los Angeles is fool's gold.
Forecast Methodology
Hartman's return-on-investment (ROI) predictions for each individual market are based on three fundamental components not considered by other forecasters. Income property, unlike other investments, is a multi-dimensional asset class. The first is component appreciation (or depreciation), which is based on a composite of forecasts from CNN Money, Fortune and Hartman's innovative Regression to Replacement Cost™ methodology. The second is leverage. The reason Jason Hartman's methodology separates appreciation from leverage is to pinpoint how much value is coming from the asset itself and how much is coming from financing benefits when acquiring the asset. The final component of the ROI predictions is cash flow where income property can be compared to bonds and dividend-paying stocks.
Hartman's model is the only one of its kind that includes a full ROI build. Most forecast reports begin and end their analysis with value appreciation or depreciation. Hartman and his team understand the full dynamics of return on investment and have chosen to create and report a complete ROI analysis for each of the targeted market areas.
About Jason Hartman
Jason Hartman, CRS, GRI, CSP, AIPIS, is America's foremost expert on long-term wealth creation through monetary policy and income property. He is the founder of Platinum Properties Investor Network, The Hartman Media Company, Open Door Auctions and The Jason Hartman Foundation. Jason is an accomplished entrepreneur, public speaker, media personality and author of 11 books.
Jason's Complete Solution for Real Estate Investors™ is a comprehensive system providing education, research, resources and technology for income property investment. His highly sought after educational events, speaking engagements and his acclaimed The Creating Wealth Show inspire and empower hundreds of thousands of people in 26 countries worldwide. For information, call 714-820-4200 or visit Jason Hartman online.
Media contact:
Brittney Roberts
Platinum Properties Investor Network
(714) 820-4200
pr(at)jasonhartman(dot)com
Nicole Thome
The Hartman Media Company
(714) 820-4200
press(at)jasonhartman(dot)com
###