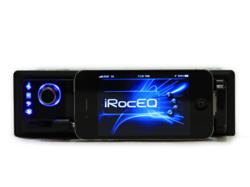 We are pleased to be able to offer our worldwide customers new cutting edge technologies
(PRWEB) October 04, 2011
Jackson Electronics announced today that the iRoc® product line is being sold through Sonic Electronix, Inc.
"Sonic Electronix deciding to carry our iRoc® product line is a great win for our company," stated Michael Gagliardi, President & CEO, Jackson Electronics, LLC, "It is further confirmation that major players in the consumer electronics industry recognize that Smartphone users want an in-vehicle solution to remain connected 24/7 and not just a way to play music from their Smartphone of choice."
iRoc® can be purchased through Sonic Electronix at http://www.sonicelectronix.com/item_40295_Jackson-Electronics-iRoc.html .
Lawrence Jackowski, Sr. Director, Sonic Electronix, Inc, stated, "We are pleased to be able to offer our worldwide customers new cutting edge technologies. iRoc is the first of what we hope is a long line of innovative products by Jackson Electronics that will transform the way we harness the power of Smartphone technology and the internet to bring new solutions to the 12 volt electronics market"
iRoc® is a revolutionary hardware platform providing a low cost alternative to OEM factory installed infotainment systems for the motor vehicle audio market, while enabling in-vehicle Internet connectivity. iRoc® replaces the existing radio and provides a unique customer experience, utilizing the iPhone as the hub of the information ecosystem. Users simply enter their vehicle, slide their iPhone into the iRoc docking system, and continue with their life … connected.
About Jackson Electronics, LLC
Jackson Electronics, headquartered in Austin, TX, is a Consumer Electronics company dedicated to providing unique, cost effective solutions for the worldwide mobile internet community. For more information, please visit http://www.iRocOnline.com.
About Sonic Electronix, Inc
Sonic Electronix, Inc, based in Valencia, CA, is an industry leading retailer in car audio and video. They focus on providing cutting edge products, competitive prices, and honest advice. Sonic is a fast growing company with warehouses facilities spanning across the United States. Founded in 2000, Sonic Electronix has always provided a one-stop shop for consumers of electronics.
Contact Information
Marketing Communications
marketing(at)iRocOnline(dot)com
iRoc®, The Ultimate Smartphone Accessory™ and the Jackson Electronics logo are trademarks of Jackson Electronics LLC
iPhone is a trademark of Apple Inc., registered in the U.S. and other countries.
###