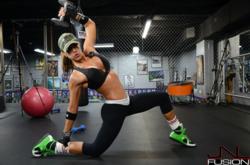 Jennifer Nicole Lee method of training, JNL FUSION, is not a fad, but rather its revolutionizing the fitness industry, now and forever.
Miami, Florida (PRWEB) October 03, 2011
JNL FUSION, a workout method fitness expert and celebrity trainer Jennifer Nicole Lee created, is not a fad critics say, but a fierce fitness revolution that is sweeping not only the United States, but the entire world. Jennifer Nicole Lee developed this trademark style of training to give maximum results in minimum time as all workouts never go past more than 40 minutes. JNL also wanted to prove the point to the entire fitness industry that you can get the best of both worlds in one workout: to burn off ugly fat while sculpting strong sexy muscle tone at the same time. Jennifer Nicole Lee's mission as a highly sought after fitness instructor and master trainer was to end the monotony of first doing strength training and then doing cardio on a cardio machine. In her JNL FUSION method, she creates the workouts with this following formula: six circuits, each consisting of 3 repetitions of weaving a strength exercises, backed immediately with a "super spiking" cardio blast move. It's these "super spiking" cardio blast moves in which she reveals the true core of the fat burning secrets. JNL states, Tthe cardio blasts are one of the many signature characteristics of what makes JNL FUSION so powerful. Right after your 30 seconds of strength, you transition with speed, agility and quickness to your cardio blast, to force your heart rate back into the fat burning zone. These weaving in and out of cardio in between weight resistance exercises are what make my JNL FUSION method so powerful."
Other well-known aspects to the JNL Fusion workout method is the body weight exercises, speedy, agility, quickness drills, plyometric, martial arts, and true track and field exercises that are all infused into one method. JNL states "with many years in the fitness industry, I saw many travel from gym to gym to enjoy different classes and methods of training. So I took the best exercises, movements and philosophy from the biggest sports, training methods and sports drills and incorporated them into one. My method some say is superior for the results they are seeing and feeling. So I let my weight loss success stories and body transformations speak for themselves. I'm so touched that millions worldwide, from Iceland, Finland, Russia, Germany, and Australia, to even China love my JNL FUSION method, and they keep on asking for more." And more they will get, as JNL's management team has confirmed a release of the JNL Fusion Extreme At Home Training Package, complete with 12 exercise DVDs, a Fat blasting nutritional guide, the 30 second timer, plus more available soon at http://www.JNLFusion.com.
Due to the urging of her global fitness friends and JNL FUSION fanatics, Jennifer and her team of leading experts are hosting the 2nd Annual JNL Fusion World Conference this January 13-16th 2012 at a private upscale resort on Miami Beach, Florida. JNL will be personally certifying those that she and her team select from thousands and thousands of applications, that come in from http://www.JNLFUSION.net JNL states, "I'm looking for the future of JNL Fusion, the ambassadors that will take this gift of instruction that I give them, and motivate as many as they can. I am seeking out the most highly coachable, those who I will work with one on one, to bring out their best unlimited potential, physically, mentally and emotionally, who will then pass the torch of wisdom and motivation to all who are ready to quantum leap their fitness level."
For more info, please visit http://www.JNLFusion.net.
###