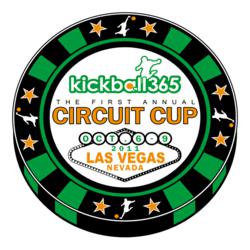 If you've ever wondered what competitive kickball is all about, this is where you'll find out. The level of talent is outstanding and it's going to be very interesting to see who comes out on top.
Washington, D.C. (PRWEB) October 03, 2011
The National Tour of The Circuit comes to a conclusion this weekend with its first ever Circuit Cup Championship in Las Vegas. Produced by Kickball365 and presented by Complete Discovery Source, Inc. (CDS), an electronic discovery service provider, The Circuit Championship will feature the 20 best competitive kickball teams from across the country, competing for more than $20,000 in cash prizes, along with bragging rights as the best team in the country.
"The twenty teams competing in The Circuit Cup Championship are hands down the best teams in America," said Matt Kemph, Founder/CEO of Kickball365. "These will be the most competitive games played all year, and every team is coming to Vegas to fight as hard as possible to win this tournament. If you've ever wondered what competitive kickball is all about, this is where you'll find out. The level of talent is outstanding and it's going to be very interesting to see who comes out on top. Whichever team does truly deserves to be called the best in the country."
The Circuit Cup Championship is a one-day event that starts at 9:00am on Sunday, October 9th at the UNLV Intramural Field. Teams will compete in a round robin group play of four games in the morning and the top 16 teams will advance to a single elimination tournament to conclude the day. At stake are cash prizes for the winning team and runner-up, as well as consolation prizes for those teams that reach the round of 8.
The 20 teams competing in the Circuit Cup Championship are:
Army of Darkness (Chandler, AZ)
BLTN All-Stars (Bowie, MD)
DeJa'Vu (Washington DC)
Flying V (Atlanta, GA)
The Foster Kids (Valley Village, CA)
Fully Loaded (Miami, FL)
iB (Fall Church, VA)
I'd Hit It (El Paso, TX)
J-Cru (Mitchellville, MD)
JKI (Parkland, FL)
Lock It Up (New York, NY)
MEATBALLS (Boca Raton, FL)
Mo' Tussin (Fredericksburg, VA)
New York Shower Hammers (New York, NY)
Panik Attack (Norfolk, VA)
The Situation (Norfolk, VA)
Sofa King Good (Tarzana, CA)
Superdudes (Milwaukee, WI)
Surrender the Booty (Jacksonville, FL)
Whiskey Richard (Chandler, AZ)
In addition to the tournament on Sunday, Kickball365 is planning a full set of social events throughout the weekend to complement the games. These include a Thursday night Meet & Greet at PBR Rock Bar & Grill, a Friday night Beer Pong & Flip Cup tournament at Blondie's, a Saturday afternoon pool party at Planet Hollywood Hotel & Casino and an after-party at Hard Rock Cafe on Sunday night. Tickets are available at http://bit.ly/K365CircuitCupSocial2011.
"Just as we do with all Circuit events, we've partnered with some of the best venues in town to make this more than just a competitive co-ed kickball tournament," said Kemph. "These teams travel from across the country to play kickball and re-connect with friends, so it's more than just a tournament for them. We acknowledge that and I think we've partnered with some very cool venues to make this an unforgettable weekend."
For live coverage the tournament, fans can check out the following:
Kickball365 will be offering live updates through our Twitter Account - Follow us @Kickball365
Be sure to search for and follow the #CircuitCup hashtag
Like us on our Facebook page at http://www.facebook.com/Kickball365
And, tune in to http://on.fb.me/K365live for a live stream of the Event on Sunday.
For more information on The Circuit, visit http://www.ThisIsKickball.com
About Kickball365
Kickball365 enables people to make friends and have fun through local kickball leagues and one-of-a-kind tournament vacation experiences. We are the home for competitive kickball in America. Our tournaments are one-of-a-kind vacation experiences where teams compete to win their share of cash prizes. Over 4,000 players will experience Circuit kickball this year. Think your team can compete? Registration for the 2012 National Tour will open in January.
About Complete Discovery Source
Complete Discovery Source, Inc. (CDS) provides eDiscovery technology solutions and services for litigations, investigations and other data-intensive disciplines. Headquartered in New York City, with offices in New Jersey and Washington DC, the company was founded in 2003 and has received numerous awards for its exemplary client services. As a full-service provider of e-discovery services, CDS merges proven technology with a team of experienced professionals to provide a best-of-breed suite of solutions. CDS has established itself as a trusted advisor to law firms, national and international corporate legal departments and government agencies by providing cost-certainty while maintaining accuracy and efficiency. For more information, contact Complete Discovery Source at cds(at)cdslegal(dot)com or visit http://www.cdslegal.com.
About The Circuit
Founded by Kickball365 in 2010, The Circuit is the only national, professional tour of top-flight, competitive kickball tournaments. Featuring one-of-a-kind vacation experiences, Circuit teams compete to win their share of $20,000 in cash prizes. Circuit Events include the South Florida Kickball Open, New Mexico Kickball Open, Virginia Beach Kickball Open, Kickball365 Open in Washington DC, New York City Grand National Tournament, and Circuit Cup Championship. These Circuit Events comprise The National Tour each year, in which registered teams compete for Circuit Points and prize money.
###