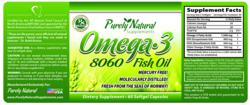 Now with our own line of all-natural supplements, we truly are America's health and wellness company.
-- Dr. Keith Kantor
(PRWEB) October 03, 2011
Service Foods, a leading provider of high-quality, all-natural food for home delivery, has introduced Purely Natural Supplements, a new line of high-quality, all-natural nutritional supplements designed to support overall health and wellness.
The entire product line consists of 13 nutritional supplements, including exclusive formulas for cardiovascular health, adrenal support, improved metabolic function, bone health and enhanced digestive function. The full Purely Natural Supplements line includes Calcium/Magnesium, 8060 Fish Oil, Veggie Vite Multi-Vitamin, Vitamin D 1500 IU, Super ResV 1200, Advanced Probiotic, Chromium Picolinate, Hoodia 2000TR, ALA/ALC 750, Adrenal Support, Ubinquinol, Whey Protein Isolate and Premium Muscadine.
Purely Natural Supplements are balanced, all-natural formulations that do not contain any artificial colors, flavors or additives. The products, which are made in the United States, have been approved by both the All-Natural Food Council of North American (ANFCNA) and the North American Food Safety Council (NAFSC). The ANFCNA is the governing body of the entire shop-at-home food industry, and the organization also campaigns for stricter label specifications and product criteria for all-natural foods. The NAFSC is a non-profit organization that works to promote public health through better knowledge about food safety, good nutrition and healthy living.
The new Purely Natural Supplements product line is available through Service Foods, Blue Ribbon Foods and Southern Foods At Home. The products can also be ordered online through http://www.PurelyNaturalSupplements.com. The company's wellness coordinators will recommend the best supplements for each client's particular healthcare needs and concerns based on their answers to a comprehensive health and wellness survey. Additionally, educational videos featuring dietitian Dana Yarn discussing the benefits of each supplement can be viewed on the Purely Natural Supplements website.
"Service Foods is the only all-natural food company in America that promotes health living by providing our clients free access to the expertise, advice and services of our staff of registered dietitians, registered nurses, certified fitness experts, certified all-natural chefs, physicians and dentists," said Service Foods CEO Dr. Keith Kantor. "Now with our own line of all-natural supplements, we truly are America's health and wellness company."
About Service Foods
Service Foods offers a full line of all-natural foods free from growth hormones, preservatives, steroids, antibiotics and colorings. The company provides free delivery directly to customers' homes. In addition, dietitians, nurses, doctors, dentists and fitness experts are on staff to counsel clients in leading a healthier lifestyle. Service Foods has been in business since 1981 and is based in Atlanta, Georgia, with warehouses in several states. To learn more about Service Foods, Inc., visit ServiceFoods.com.
Media contact:
Mike Cohen
Trinity Consulting
678-947-9040
mike(at)trinityadvantage(dot)com
###