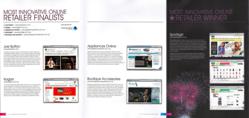 We are thrilled to be among such good company this year at the leading Online Retail Awards Gala!
Sydney, NSW (PRWEB) October 02, 2011
Boutique Accessories, a cutting edge online fashion accessories store, has been hobnobbing with the cream of online retailers in Australia.
At the recent Online Retail Industry Awards (ORIAs) presentation gala, the achievement of being a finalist in two categories was realised for the new website, only launched in January 2011. Boutique Accessories is officially one of the best new online retailers and most innovative online retailers in Australia.
The awards, as voted by industry experts, are designed to recognise and reward excellence in e-commerce retailing. The ORIAs honour leading online and multichannel retailers across various categories within e-commerce.
Becoming a finalist was no mean feat, with some well known brands standing alongside including Sportsgirl, Dan Murphy's, StyleTread, Kogan, Appliances Online and Le Domaine.
Boutique Accessories' Virtual Mirror was the talking point of the show, an application that allows online customers to try on jewellery, successfully bringing the online shopping experience closer to that of real shopping in a Mall.
Congratulations to the winners of the two categories, Sportsgirl (Most Innovative Online Retailer) and StyleTread (Best New Online Retailer).
The winners in each category shared two common features; thought leadership in the online retail industry and exemplary customer service to their online customers.
###