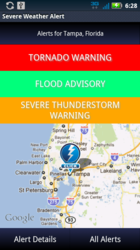 A must have if you live where dangerous weather is frequent. Now I can toss the weather radio taking up space by the bed." - Current App User
(PRWEB) October 12, 2011
This new application for Android devices app is a flexible and easy-to-use application that notifies the user of current weather alerts from the National Weather Service (NWS) and the National Oceanic and Atmospheric Association (NOAA).
This application determines the user's location to provide notifications for weather alerts in that area. It also lists weather alerts for other locations throughout the United States. Get audible and visual notifications for tornado warnings, severe thunderstorm warnings, hurricane warnings, flood warnings, blizzard warnings, high wind warnings and much more. Simply install, set the preferences, and forget. Alerts pop up on the Android Notification Bar screen as they happen.
Some benefits include optional automatic notifications that appear on the device's Notification Bar, the option to chose the type of alerts received, a map displaying the locations of the alerting weather stations, ring type options, update frequency options and alert distance options.
Click the link to download now: Download Severe Weather Alert App for Android.
###