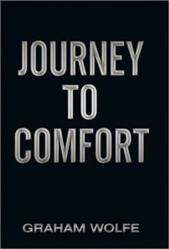 Allentown, PA (PRWEB) October 04, 2011
Graham Wolfe's suspenseful new novel, Journey To Comfort (published by Abbott Press), tells the story of siblings Jack and Jaz Donaldson. Jack and Jaz just want to be regular kids. One evening however, after 14 year-old Jack protects his younger sister during an argument with another girl, the two suddenly realize that they are not regular at all. Soon, they share a dark secret between them – a secret so shocking that it has the potential to destroy their affluent family.
Jack and Jaz's well-meaning parents have no idea what effect their own actions and, sadly, inactions have wrought. As Jack and Jaz continue on their coming-of-age journeys and life-changing moments, the confidence only they share is never compromised, yielding at least the appearance of a normal life.
But decades later their worlds are about to be turned upside down as separate tragedies strike each of them. With their unforgettable secret still lurking beneath the surface, neither knows whether these shattering events will finally allow them to be free or whether they both must somehow find comfort in living with the deception – forever.
Now nearly 50 years later, Jack and Jaz must decide if it is truly possible to escape the debilitating burden of their scandalous secret or if they have no choice but to take it to the grave with them.
A shocking story of a complicated and illicit love affair, Journey To Comfort will have readers questioning how far they would go to be with the person they find irresistible.
About the Author
Graham Wolfe is a successful executive with a turnaround reputation. He lives in Pennsylvania, where he works as a consultant, allowing him more time to direct his creative energy toward writing. This is his first book.
Abbott Press, a division Writer's Digest—the oldest and most respected publisher devoted to the education and advancement of writers—is an indie-publishing imprint dedicated to helping writers bring their literary vision to print. Author Solutions, Inc., a leader in indie book publishing, will fulfill publishing, sales, and marketing services for Abbott Press. For more information, or to begin publishing a book today, log on to abbottpress.com or call 866-697-5310.
###