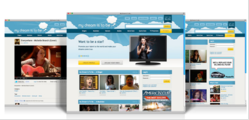 My Dream Is To Be takes the fundamentals of TV talent shows and places them on the web to create a simple, straightforward and truly interactive experience where the public is the judge
(PRWEB UK) 6 October 2011
On 1st October 2011, Mydreamistobe.com officially launched to the world.
Who is it for?

The aspiring stars of the future - My Dream Is To Be is for people who dream of becoming famous. It provides a unique platform for users to share their videos and profiles with the public and talent spotters.
Talent spotters – My Dream Is To Be gives access to talent from all over the world in a variety of categories.
The public – now it is easy to search through videos of up and coming stars, comment on their videos and give feedback on how to improve. My Dream Is To Be is fully integrated with Facebook and Twitter.
How does it work?
My Dream Is To Be takes the pain out of trying to get your talent spotted that exists with other video sharing websites. With clear categories, a rating system that helps users search for the best videos and Facebook integration for comments and feedback, My Dream Is To Be takes the fundamentals of TV talent shows and places them on the web to create a simple, straightforward and truly interactive experience where the public is the judge.
However, My Dream Is To Be is not only for singers. It is launching with nine categories: singer; musician; dancer; model; comedian; sports star; movie star; TV presenter and famous.
Bonus - Catch up on the latest TV talent shows auditions.
As well as providing a platform for the stars of the future, My Dream Is To Be also hosts the latest clips and auditions from TV Talent shows including the X Factor, X Factor USA, and America's Got Talent. It has never been easier to search for your favourite clips from shows past and present.
Viral Video
To help publicise the launch of My Dream Is To Be a viral video has been produced. The video was filmed at Kingston upon Thames and features The Symbolics (down from Manchester to the city they believed was the birthplace of reggae) on their mission to promote a unique brand of country-metal. They get a bit of shock when a world famous talent spotter happens to walk by.
About Us
AMEL Creative Websites Ltd was established in 2010 with the ambition to develop ideas and concepts into genuinely innovative and exciting websites that capture the imagination. My Dream Is To Be has been developed with Cotswold Web Services, who are one of the leading independent web design companies in the UK and is the first of what will be a number of unique websites that AMEL Creative Websites plan to launch over the next few years.
To find out more about My Dream Is To Be, please contact us at info(at)mydreamistobe(dot)com.
###