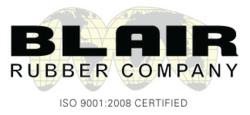 Blair has the experience, reliability and best lead times in the industry – this is what customers have come to love about Blair
Akron, Ohio (PRWEB) October 04, 2011
Blair Rubber Company announces the launch of a new international marketing initiative to increase their exports of rubber linings and belt splice materials worldwide.
Headquartered in Seville, Ohio, Blair Rubber manufactures and markets Enduraflex, Plioweld, Crislip and Marflex-brand rubber linings. Blair rubber linings are used in the interior of storage tanks, railcars, food processing, wastewater and nuclear environments to protect metal and concrete from corrosion.
Blair began exporting their rubber linings in 1990 to China and Israel. Their export business has grown steadily as the Blair brand and reputation for reliability/durability has spread. At the same time, their domestic sales have grown even faster. Today based on the performance of their linings, technical knowledge and customer service, Blair holds the largest US market share. International sales are a small percentage of Blair's overall sales with a huge potential for growth.
The International initiative is being spearheaded by Nalex Cordova, Export Marketing Manager, who joined Blair Rubber May, 2011. "Our products are needed worldwide," stated Dave Jentzsch, General Manager of Blair Rubber. "Every country stores and transports harsh, hazardous chemicals and processes food and wastewater. Our products do a superior job of protecting vessels and equipment from corrosion and potential spills."
Cordova holds a Masters Degree in International Business Management and has over 15-years experience in business-to-business marketing, business development and sales. His experience includes a broad international business management background, conducting business in Spanish, Brazilian Portuguese and English through North and Latin American countries. Cordova brings to Blair Rubber Company a wealth of experience in global market development experience and will be in charge of launching a proactive export marketing strategy as Blair Rubber further expands their reach into global markets.
There are several facets to Blair's International strategy, which includes building an infrastructure of local representation in each country, qualifying applicators and providing training to the applicators. Blair has successfully set up this infrastructure in Venezuela and now modeling the program in other target countries. International marketing efforts through distributors, universities, the Internet and export/import agencies and international delegations are underway.
"I am honored to represent the Blair Rubber Company, a global leader in the Rubber Industry. Blair has the experience, reliability and best lead times in the industry – this is what customers have come to love about Blair and has proven successful domestically in North America. We will bring the Blair advantage to the rest of the world," commented Nalex Cordova, Export Marketing Manager.
Blair Rubber Company specializes in the design and manufacture of rubber for tank lining and belt splicing materials. Blair's rubber linings are applied to the interior of storage tanks, rail tank cars, chemical and food processing equipment, and nuclear and wastewater treatment tanks to protect the metal or concrete from corrosion. Many times, Blair's products are used to protect tanks containing extremely hazardous chemicals; any failures in a rubber lining could lead to catastrophic consequences. Blair's precise control of product quality from raw materials through manufacturing and shipment is essential to ensure that their products perform and protect.
Editor's Note: If printed in your publication, would you please forward a copy of the article and media kit to the attention of Nalex Cordova at Blair Rubber Company, 5020 Panther Parkway, Seville, Ohio 44273.
# # #