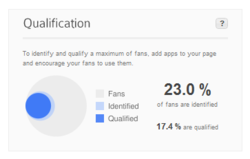 Qualifying your fans is the first step to generating ROI on Facebook.
Paris, France (PRWEB) October 05, 2011
Without the right tools, managing a fanpage on Facebook and achieving measurable marketing goals is not an easy task. Until now, most of the Facebook marketing solutions were at a price point limited to Fortune 500 companies. AgoraPulse is launching a new platform that will give small and medium business access to high end comprehensive Facebook marketing tools, no matter their budget.
Establishing an effective presence on Facebook has become essential for brands and companies. However, despite the attraction to social networking, two major obstacles often arise: budget and measuring return on investment.
While creating a Facebook page is quick and free, recruiting and animating your fan base takes time and money. Also, evaluating and measuring your success and returns is a challenging task.
Today, brands often go through specialized agencies to organize their marketing campaigns on Facebook. But creating personalized applications and managing their community without the appropriate tools can be expensive and unsustainable.
In response to this issue, some online services offer brands the chance to personalize their pages themselves, others to moderate, or even organize content. But this fragmentation of services makes page management time consuming and data consolidation complicated. The rare unified solutions that do exist are unfortunately not available in self-service, and are often reserved for big-brand budgets.
1. A unique solution in response to the needs of brands on Facebook:
The AgoraPulse Platform is the first solution that combines:

Management and moderation on a page wall (rules of automatic moderation, categorization of publications, future publication planning, collaborative management);
Fan management (identification of the most active fans, history of fan interactions, qualification);
A complete catalogue of applications to recruit and animate your fan base (Quizzes, Sweepstakes', Photo Contests, and Instant Wins).
This can serve as a complete toolbox for Community Managers on Facebook and for Social Marketers.
2. An offer available in self-service and accessible to all budgets, without sacrificing quality:
AgoraPulse's aspiration is to offer tools to all Facebook page administrators, not just those with big brand budgets. The basic offer for 1,000 fans starts at $14 a month. The platform has a 15-day free trial, and you can easily subscribe online here: http://www.agorapulse.com
This affordable price is not detrimental to the quality of the services and the available applications. In fact, the plethora of available options rival applications that charge 5 to 20 times more.
3. The Return on Investment is assured by the qualification of fans:
To effectively measure ROI, AgoraPulse employs a CRM oriented approach. All of the AgoraPulse applications have been created to collect qualifying data in exchange for exclusive content and enticing contests. All the data is then automatically consolidated into a single fan base. Therefore, each campaign enriches the knowledge brands have about all their fans.
For example, a restaurant owner can see which fans are living in his neighborhood, a B2B company can identify the job title and employer of his fans, and a vacation club can find out if their fans have already made a visit. Then you can use this data to enhance your relationship with your clients or to efficiently communicate with prospects.
Each fan can be transformed from an unidentified visitor without much tangible value into a loyal customer or a priority prospect. AgoraPulse creates immediate and undeniable value.
From recruitment to animation, moderation, and even qualification, AgoraPulse allows all subscribers to take full advantage of their Facebook page, no matter their budget and goals.
About AgoraPulse:
The AgoraPulse platform was created by affinitiz, a company dedicated to the development of web based social technologies for the last 10 years. Launched on August 15, 2011, AgoraPulse already manages 650 pages, and 4 million fans. Among its first users are M&M's, PriceMinister, Wonderbox, Havaianas, Crocs, O'Neill, Samsung Mobile, McDonald's and the Fédération Internationale de l'Automobile (FIA).
For more information on AgoraPusle visit: http://agorapulse.com
Press contact
Emeric Ernoult, tel : +33 1 44 61 18 48 / +33 6 11 619 619 / Email : ernoult(at)affinitiz(dot)com
# # #