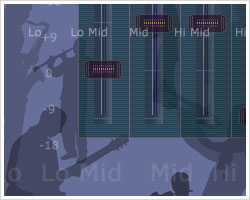 Theta Music puts the FUN back into ear training.
Tokyo, Japan (PRWEB) October 10, 2011
Theta Music Technologies today released five new ear training games, two new training courses, and several new features for music teachers as part of a major update to Theta Music Trainer, its critically acclaimed service for online music training.
The five new games train students in a wide range of musical skills, including aural recognition of equalizer settings, instrument sounds, chords and intervals. The new Music Theory Course offers game sessions devoted to scales, chords and other music theory concepts, while the Sound & Audio course provides focused workout sessions dealing with effects, mixers, and instrument sounds.
The new update release contains many new classroom features for teachers, schools and private music studios. Music teachers can use the system to demonstrate concepts in class, or assign games for homework. All of the assignments, reports and grading are handled online, and teachers can also get progress reports for each student in printable PDF format. Students in a particular class or school can now view Top Score and Top Player lists within their group, making the system ideal for classroom competitions.
The 'Personal Trainer' feature, which automatically adjusts difficulty and game elements to match learning progress, has been greatly expanded for this update release. At the end of a game, each student can now see a chart that pinpoints weak areas. The system then links to a customized game level specially designed to strengthen those areas for that particular student. Players can also create their own custom 'practice levels' to work on specific groups of tones, intervals or chords.
About Theta Music Trainer:
Theta Music Trainer is a complete set of online games designed for ear training and music theory practice. Launched in October 2010, Theta Music Trainer provides musicians of all levels with a deeper understanding of music and a stronger ability to play music by ear. The music training games are classified into four categories: melody, harmony, rhythm and sound. Each game is divided into twenty levels of difficulty. Game scores are recorded and players may check their results and progress reports at any time.
Theta Music Trainer was created with the purpose of injecting an element of fun and excitement into a musician's daily practice routine. Rather than simply doing the same drills over and over, the training is based around a set of 25 different games, each designed to strengthen a particular area of musicianship. For example, one game helps the student become familiar with the tones of major and minor scales, while another game trains the student to recognize different types of chords. The variety and pacing of the games are designed to hold the interest and attention of students as they practice a wide range of musical skills.
Since its release in October 2010, Theta Music Trainer has been widely praised among music educators and independent music teachers alike. "Theta Music puts the FUN back into ear training," says George Brodbeck of Ear Training Online. Thomas West, a prominent teacher and clinician at the Center for Performing and Fine Arts in Philadelphia, writes that the games are "engaging, entertaining, and get kids to listen closely in graduated levels of difficulty." Jeremy Boggess, Director of Mastering Music, calls Theta Music Trainer "the first ear training software that has blown me out of the water." In January 2011, Theta Music Trainer was selected by radio personality Kim Komando as one of her 'Cool Sites'.
Service and Pricing Information:
The first three levels of all games can be played any number of times with a free account. Full-access subscriptions are available on a monthly or yearly basis, and provide access to all 25 games and all 500 levels. In addition, several of the games have a 'master level' that is unlocked after all the regular levels have been completed.
Individual monthly subscriptions cost US $7.95/month, while yearly subscriptions are priced at $49.00/year.
For private music teachers and studios, the Theta Studio plan includes 50 accounts, and is priced at $99/year.
For classroom and university music teachers, the Theta School plan offers 200 accounts, and costs $199/year.
About Theta Music Technologies:
Founded in 2003, Tokyo-based Theta Music Technologies is a leading developer of games and applications for music learning and musical skill training.
# # #