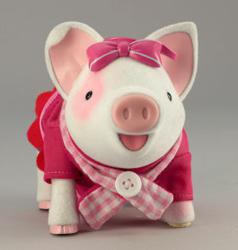 These cute and cuddle little Piggies are without a doubt the top Christmas toy and are already on shelves across the Nation.
(PRWEB) October 04, 2011
There's no better way to gear up for the Christmas season than to launch a commercial. RP Toys Ltd. realized this after becoming the exclusive Canadian distributor for Teacup Piggies and hired top Advertising Agency, Creative Bube Tube as their Agency of Record for media buying and planning.
The U.S. Toy Guy's recommended pick as one of the hottest new collectibles in 2011 (Toys & Games Magazine, Sept 8th, 2011) is solid evidence that Teacup Piggies will have no problems penetrating the Canadian market. This top Christmas toy is perfect for any child. With 25 phrases, they respond to voice commands and have touch-point sensors, which allow your child to interact with their virtual pet. Teacup Piggies will fall asleep when turned on their side, oink when awoken, eat and do so much more. Although accessories and play sets are sold separately, they are not in short supply. Want your Teacup Piggie to be a princess? There's an outfit for that. Want your Teacup Piggie to drive around in a limo? Or go to the mall? Not a problem, there are play sets for that as well. Teacup Piggies come with their own collectible cup, an outfit, feeding bottle and birth certificate. These cute and cuddly little Piggies are without a doubt the top Christmas toy and are already on shelves across the Nation. Teacup Piggies are the ideal substitute for parents being bombarded with requests for the real Teacup Piggies, which involve proper maintenance and care.
A few points that validate why toy Teacup Piggies are better "pets" than real Teacup Piggies are as follows:

You cannot dress up a real Teacup Piggie, or make them sit in a play set for hours on end.
A real Teacup Piggie cannot sit at the table and eat dinner with your child and your family, the toy Teacup Piggie can.
Last, but not least a real Teacup Piggie requires bathing, feeding and cleaning up after. The toy Teacup Piggie requires no maintenance on your end.
There are three litters of Teacup Piggies to chose from, each Piggie comes with it's own name and personality. For example, Princess is from litter number 1. Princess loves entertaining her friends and hopes to one day find her Prince Charming. Glitter is from litter number 2 and loves all things sparkly, she also loves to take pictures, and Oscar is from the smallest litter, number 3, and aspires to be a movie star. There are six Teacup Piggies in litter number 1, six in littler number 2 and only three in litter number 3. With all of the variety, this top Christmas toy is bound to become a must-have collectible line in every household.
About RP Toys Ltd:
RP Toys Ltd. is a privately held company based out Mississauga, Ontario. They have been involved in the toy industry for over 20 years both distributing and manufacturing the hottest new toys and top Christmas toys. The company has played a key role in the release of an abundance of products such as; Spring Float, Mad Gab, Micro Pets and have recently been announced as the exclusive Canadian distributor for Teacup Piggies, which are now available in stores across Canada. Visit their website at http://www.rptoys.ca or your nearest toy store to get your Teacup Piggie or other RP Toys Ltd. products today.
About Creative Bube Tube:
Creative Bube Tube is a top Advertising Agency that handles every aspect of producing a television commercial from script to screen. Their capabilities are not strictly limited to television commercials; the team of industry experts also handles branding, PR, web design, media buying and planning and Agency of Record duties. They have many different types of commercials to fit your every advertising need. Visit them today at http://www.creativebubetube.com.
# # #