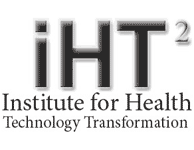 New York, NY (PRWEB) October 04, 2011
The Institute for Health Technology Transformation (iHT2) announced their 2012 health IT program calendar today. The calendar includes over twelve programs taking place in ten cities. The programs will promote improvements in the quality, safety, and efficiency of health through information and information technology.
The 2012 iHT2 programs will be chaired by Barry Chaiken, MD, Chief Medical Officer, DocsNetwork and former HIMSS Chair who is the Institute's health IT chair. The 2012 thought leadership faculty will include some of the most accomplished providers, payers, policy makers, and customers from healthcare and medical industries including: Marc Probst, CIO, Intermountain Healthcare; Blackford Middleton, MD, Corporate Director of Clinical Informatics Research & Development, Partners Healthcare Systems; Hal Wolf, SVP & COO, Kaiser Permanente; Russell Branzell, CIO, Poudre Valley Health System; C. Martin Harris, MD, CIO & Chairman IT Division, Cleveland Clinic, and many more.
The Institute also announced the inaugural iHT2 CMIO Forum, which will take place January 17-18 in Phoenix, and will be built by CMIO's for CMIO's. The Institute will also be launching the iHT2 CIO Forum, which will take place later in the year and will be built by CIO's for CIO's.
The iHT2 Health IT Summits, which bring together C-level, physician, practice management and IT decision-makers from America's leading provider organizations and physician practices will kick off in Phoenix in January. The program will then move to San Francisco in March, Washington DC and Atlanta in April, Fort Lauderdale in June, Denver in July, Seattle in August, New York City in September, Beverly Hills in November, and will conclude in Austin, Texas in December.
iHT2 events are designed to support multi-stakeholder organizations who are navigating through health IT issues, policies and strategies in an attempt to improve care. iHT2 events include a variety of guest speakers and keynotes representing many diverse sectors within health care. Speakers provide expert advice, practical recommendations and reactions related to the most pressing issues.
About the Institute for Health Technology Transformation:
The Institute for Health Technology Transformation is the leading organization committed to bringing together private and public sector leaders fostering the growth and effective use of technology across the healthcare industry. Through collaborative efforts the Institute provides programs that drive innovation, educate, and provide a critical understanding of how technology applications, solutions and devices can improve the quality, safety and efficiency of healthcare. http://www.ihealthtran.com
For more information about this release and how you can collaborate with the Institute for Health Technology Transformation in 2012 and beyond please contact: Matthew Raynor, Senior Marketing Manager, Institute for Health Technology Transformation, 561-748-6281, matt(at)ihealthtran(dot)com
# # #