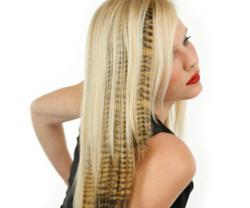 Extensions.com believes that the print hair trend will emerge as one of the most sought-after looks of the season.
Dallas, TX (PRWEB) October 04, 2011
Extensions.com invites fashionistas to "get wild" with print hair extensions. What is this new phenomenon? Alternative hair website Extensions.com believes that the print hair trend has the potential to be bigger than the feather extensions craze and emerge as one of the most sought-after looks of the season.
Print hair originated with a trend called 'coontails,' a method of dying sections of hair in a striped pattern that resembles a raccoon's tail. The coontails look was first popularized by the underground alternative scene, but the trend really took off when the striped extensions appeared in the locks of American Idol judge and rock icon Steven Tyler. From there, it was only a matter of time before animal print extensions made it to the mainstream.
Now the website that specializes in clip in extensions is helping to bring print hair to the masses. Extensions.com initiates the trend with zebra inspired or tiger print hair extensions which simply clip into the wearer's hair without damage or permanent dye. Part of the Put On Pieces brand, these print extensions are available in a rainbow of shades: natural, red, white, blue, purple and pink. Extensions.com recommends that consumers select the best shade or multiple shades to complement their own hair color and suggests that the print hair can be worn in countless, interesting ways.
In this exciting new campaign, models for Extensions.com illustrate how wearing a single printed extension offers a simple yet fun pop of color and texture; multiple extensions in the same color (or even varied colors) can be applied for a panel effect and a much more dramatic look. Plus, because the extensions are designed with heat-friendly synthetic fiber, they can be styled using heat tools and trimmed to fit any hairstyle for the illusion that the wearer has dyed their own hair in a crazy, funky animal print.
Offering a few helpful style tips for its trend-hungry fashionistas, Extensions.com suggests, "Head-to-toe animal prints can be a fashion disaster, but a touch of animal print hair gives you a subtle edge that will make people take a second glance." Visitors can find print hair extensions and watch exclusive how-to-apply video for more styling tips at the Extensions.com. Printed hair: it's just one more way the Hair Professionals at Extensions.com keep their clients up to date on the latest trends.
###