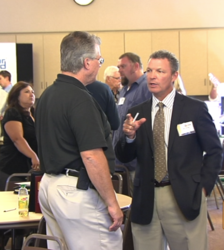 "Western Riverside County will continue to be among the fasted-growing areas in the nation"
Temecula, CA (PRWEB) October 04, 2011
Representing all 16 cities, the Riverside County Board of Supervisors, and the Eastern and Western Municipal Water Districts, in partnership with the Small Business Administration (SBA) and other regional organizations, WRCOG held their 1st Annual Western Energy Summit at the city of Temecula's newly constructed, energy-efficient Civic Center. Because of forward-thinking developers and local elected leaders, new buildings in Western Riverside County are among the most energy-efficient in California.
Western Riverside County jurisdictions continue to take the lead in seeking ways to improve the region's economy and sustainability by accommodating new growth, improving energy efficiency in existing homes and commercial buildings. Fortunately, the recently-enacted legislation AB 811 and AB 474 provide a much-needed mechanism for improving energy efficiency in buildings that pre-date today's commitments to environmental responsibility.
AB 811, signed into law in July 2008, allows local governments to offer low-interest loans to home owners and small businesses for energy-efficiency projects and solar panels. Those who take advantage of the program would pay back the loans through assessments on property tax bills over a period of time (10 – 20 years). The benefits of this program extend to both property owners and local governments. AB 811 allows property owners to save money on utility bills and lower energy costs. It also allows utilities to meet their energy saving and renewable energy goals, and allows cities and counties to reduce greenhouse gases.
Rick Bishop, Executive Director for WRCOG, stated to Southern California CEO magazine that, "Western Riverside County will continue to be among the fasted-growing areas in the nation". He went on to say that "WRCOG will be working closely with organizations like the National Electrical Contractors Association to assist in promoting and implementing the Energy Program". With over 200,000 properties in Western Riverside County in need of energy improvements, AB 811 and AB 474 could create an economic boom for the region.
Jan Hudson, Director for the Inland Empire Labor Management Cooperative Committee (LMCC) who represents over 130 NECA contractors and the IBEW stated, "NECA contractors are already providing the first step in the program; Free Energy Audits for businesses and homeowners". Ted Kristensen, President of Enterprise Electric said, "These free energy audits assist businesses and homeowner in finding the most cost-effective way to approach their energy efficiency whether it's new energy efficient windows, lighting, insulation or solar panels".
Riverside County will benefit from this new green economy by reducing utility bills for thousands of residents and businesses and it will create or maintain thousands of construction-related jobs. It will also increase property values and improve tax roll revenues to jurisdictions, and it delays the need for costly construction of energy generation and transmission lines. But most importantly it positions the region as the leader in improving air quality by reducing greenhouse gas emissions.
For more information contact
Barbara Spoonhour (Environmental)
Program Manager
(951) 955-7985
spoonhour(at)wrcog(dot)cog(dot)ca(dot)us
###