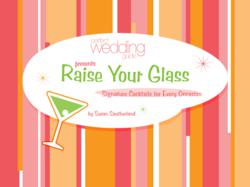 Raise Your Glass will inspire couples to find the perfect signature cocktail for their personalities and styles.
Atlanta, GA (PRWEB) October 04, 2011
Couples are always looking for clever and exciting ideas to set their wedding apart from others –especially with the reception. In recent years, signature cocktails have become a fun way to inject a bit of individuality into the wedding planning. And to add more recipe suggestions to the "mix," Perfect Wedding Guide national expert Susan Southerland has created the cocktail and celebration eBook, "Raise Your Glass: Signature Cocktails for Every Occasion." The online guide reveals some of the hottest special occasion drinks served by the country's leading hotel bars (Loews Hotels), sommeliers and mixologists, and spirits brands (TY KU, Van Gogh Vodka, SKYY Infusions).
"Signature cocktails are the perfect way for couples to infuse their bars with personality," says Southerland. "Some couples choose cocktails for their colors while others choose them because it reminds them of a special date or an important location. 'Raise Your Glass' will inspire couples to find the perfect signature cocktail for their personalities and styles."
The 37-page eBook is now available for download on the Web site, and is the first in a series of free downloadable wedding-planning eBooks to appear on the site in the months to come. For more information visit PerfectWeddingGuide.com.
About Perfect Wedding Guide
Perfect Wedding Guide, the leader in wedding media resources, is the oldest and most reliable wedding planning company in the United States. For almost 20 years, we have been dedicated to creating innovative wedding planning solutions for brides of all budgets. Our company offers couples a number of fun, useful, and FREE products to help make wedding planning less of a chore and more of a treat. Our local guides and bridal shows are available coast-to-coast in over 60 markets, showcasing some of country's top wedding vendors who work right in the bride's backyard. Our national Website, PerfectWeddingGuide.com, is full of fresh planning tips, wedding ideas and wedding news, an extensive photo gallery for inspiration, easy-to-use wedding planning tools, as well as a wedding blog community hosted by our national wedding planning expert. For more information, visit PerfectWeddingGuide.com.
###