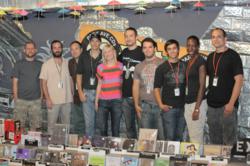 "This is not an average student experience and we are proud to work alongside Park Ave CDs and Frank Turner to create this milestone 100th recording."
Winter Park, FL (PRWEB) October 04, 2011
Marking a milestone achievement unique from that of any other higher-education institution in the world, Full Sail University recently celebrated the 100th student recorded exclusive in-store performance at the Winter Park based independent record store, Park Ave CDs. The event, held on September 27, featured singer/songwriter Frank Turner, whose acoustic set for an audience of nearly 200 attendees was recorded by four students selected from Full Sail's Recording Arts degree program.
Full Sail University has formed a unique relationship with Park Ave CDs, which allows Full Sail University Recording Arts students to prepare the stage and record exclusive in-store performances for some of the world's most buzz-worthy bands. This one-of-a-kind opportunity provides students with real-world experience and in some cases, allows them to earn credit on official releases by internationally known artists.
"We're an independent business, Full Sail is an independent school, and together we are working with mostly independent artists. It builds a sense of community all around us," said Sandy Bitman, Owner of Park Ave CDs. "Band managers, labels, road managers - they all know about our partnership and look forward to doing the in-stores with us."
The recordings, many of which are nationally distributed to record stores throughout the country, are first approved by the artist, management, and label before official release. Past performances include bands and individuals such as Snow Patrol, Gaslight Anthem, Matt Nathanson, Porcupine Tree, Jose Gonzalez, and Manchester Orchestra.
During each event, four Full Sail Recording Arts students accompany university faculty members Darren Schneider and Matt Gorney in running the sound and recording for the show. Students are selected through an essay and interview process, and chosen by an independent group of professionals.
"These are real professional gigs," said Darren Schneider, Course Director, Advanced Session Recording at Full Sail University. "The students who get to work the in-stores get to act just like an actual engineer would – tearing down, setting up, functioning in a normal environment."
In addition, the partnership between Full Sail and Park Ave CDs reminds students of the important role the record store has in the music industry, thus offering an inside look at various elements of the entertainment industry including Show Production, Recording Arts and Music Business.
"Going beyond the classroom and bringing the professional experience to life is an essential part of our curriculum," said Matt Gorney, Course Director for Music History at Full Sail University. "This is not an average student experience and we are proud to work alongside Park Ave CDs and Frank Turner to create this milestone 100th recording."
About Full Sail University:
Full Sail University is an award-winning educational leader for those pursuing careers in the entertainment and media industry. Founded in 1979, Full Sail has been recognized as one of the Top Five Game Degree Programs by Electronic Gaming Monthly, one of the Best Music Programs by Rolling Stone Magazine, and one of the Best Film Programs by UNleashed Magazine. In 2011, Full Sail received the "21st Century Best Practices in Distance Learning Award" from the United States Distance Learning Association, was named the "School/College of the Year" by the Florida Association of Postsecondary Schools and Colleges, and was recognized as one of the Top 100 Social Media Colleges by Studentadvisor.com.
Full Sail offers Master, Bachelor, and Associate campus and online degree programs in areas related to animation, art, business, education, graphic design, film, marketing, web development, music, recording arts, sports, and video games. Full Sail graduate credits include work on OSCAR®, Emmy®, GRAMMY®, ADDY®, MTV Video Music Award, and Spike Video Game Award nominated and winning projects.
http://www.fullsail.edu
http://www.twitter.com/fullsailupdate
http://www.facebook.com/fullsailuniversity
###