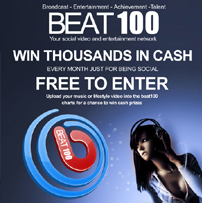 "YEEESSSS!!!! Thanks to everyone who voted, Ended up coming 3rd and won $200 just for adding a show reel on beat100 site, its more money than we've ever got from You Tube!"
london (PRWEB) October 04, 2011
Beat100, a new wave of web interaction has arrived to combine all the best bits of other social networking sites all rolled into one exhilarating package which will allow people not only to keep contact with each other via the web but also post videos for prizes! Beat100 looks to take on its forever ageing predecessors & injecting a brand new lease of life into a worldwide addiction of the masses.
How does Beat100 work you may ask? Well like all great things it's rather simple; there are two charts, the 'Music Chart' & the 'Lifestyle Chart'.
The Music chart is particularly exciting as since the unconfirmed death of MySpace, bands and musicians have been scouring the internet wastelands looking for someone, anyone to listen to them. Look no more however, here lays the perfect way to revive the unsigned music scene. For the past month Beat100 debutants have been at loggerheads battling it out for the top spot.
At 23:59 on Friday the 30th September it all came to a climatic ending which saw Essex based band 'Plastic Youth' bag the number one spot & the prize money to boot with their self-penned hit 'For Glory's Sake' . The bands singer/bassist said "It's great that social networking is evolving & incorporating music with it, we're all chuffed to be a part of it". The band which consists of brothers Luke, Dan & James Higgs along with drummer Kieran Ambrose have just completed a stint in the recording studio with Verve guitarist Nick McCabe and are set to release new material and tour in the new year. http://www.plasticyouth.co.uk
The second place slot in the music chart was taken by talented young songstress Kelly Donovan who is slowly but surely setting the world alight with her song writing and performances. Kelly has already collaborated with a number of high profile artists and most definitely has a bright future ahead of her. Kelly's upload, an original song named 'Runaway' shows a glimpse of things to come in the very near future.
For the unlucky artists that just missed out on a top three place their videos will stay in the chart for the following months competition so all previously cast votes were not done so in vain, it's a very fun and fair way of conducting things.
The other chart on Beat100, the 'Lifestyle Chart' is a no holds barred, free for all for a right mixed up bag of talent. This past month has seen an array of unique, gifted individuals upload their best videos not only to have a crack at the prize money but purely for the entertainment factor which once again brings into play the social aspect & clearly highlights what previous social networking sites have been lacking.
Third place Terry Lamb had a staggering number of views on his video which is bound to make you feel ever so slightly dizzy, if not a tad nauseous. Terry's video is a compilation of clips of him twisting, turning, somersaulting, flipping with a hint of breakdance, he moves so fast if you don't concentrate you'll miss him in the blink of an eye, it looks extremely impressive in any case. Terry posted on his Beat100 social wall after learning about his third place prize "YEEESSSS!!!! Thanks to everyone who voted, I ended up coming 3rd and won $200 which will work out to £100-£150 and all I had to do was put my show reel on beat100 site, its more money than I've ever got from YouTube!"
From one extremity to another, The Nike Pool… Sounds cool doesn't it! Beat100's second place video is a high octane, stunt filled extravaganza by young BMX daredevil Scott Donovan. Scott aided by his camera goes around one of his favourite BMX haunts & interviews other young riders about their thoughts on their hobby; it's a fascinating insight into an increasingly popular pastime. It seems quite apparent that Beat100 members are quite keen for a second instalment.
On a slightly calmer yet no less dangerous level Beat100 is proud to hand over its winner's prize to two young horse enthusiasts Charlotte Poulten & Mia De Simone. The girls caught wind of the website & saw it as a golden opportunity to show others the hard work that they have put in whilst training for a Rayleigh & District Horse Show in which they took part in the pair's dressage.
The video shows the girls preparing for the test which they eventually won but broadcasts with a twist of humour and non-seriousness about it using Survivors one hit wonder 'Eye of the Tiger' as background music. Charlotte who uploaded the video onto Beat100 said "It was all a bit of fun, we had a great show season & thought it was an opportunity to show off our horses who we are incredibly proud of, we're so happy the Beat100 network has got behind the video & we look forward to spending the prize money on new horsey things". Beat100 has had an incredible first month & is destined for great things, chucking out a vast array of quality musicians & artists already, matching them up against the purest form of entertainment in the Lifestyle chart. If you're not the type of person that craves the limelight or you may be of the camera shy variety then fear not, the social side of the site will most definitely capture your imagination. There is even a new games section which will help pass away the hours in the office!
Beat100' s here to stay, putting the beat back into social networking on the World Wide Web. Next month is sure to hot up even more with an even wider range of music and talent. Let the games begin.
# # #