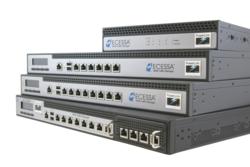 We wanted to introduce models at specific price/performance levels that address a hole in the marketplace.
Minneapolis, MN (PRWEB) October 04, 2011
Ecessa Corporation today announced the release of six new product models in their PowerLink, ShieldLink and ClariLink lines for SMB and Mid-Tier markets.
Ecessa, a 43 year old company, manufactures WAN Link Controllers for ISP load-balancing and failover. Today they announced the introduction of new products to address a significant value/performance void in the market. The new models will support from 10 Mbps up to 1.2 Gbps of bandwidth and from 2 to 25 WAN Links. These new models meet price points not previously seen.
According to Ecessa's CEO Ron Thomas, "We wanted to introduce models at specific price/performance levels that address a hole in the marketplace. For example, our new PowerLink 60 is a fully functional WAN Link aggregation solution that provides inbound and outbound failover and load-balancing as well as QoS and supports 60 Mbps with up to 3 WAN Links. There just hasn't been an offering on the market in that price range with the feature-set, installation, and support that Ecessa offers".
Ecessa is also launching a new remote site appliance called the Outpost, which will be available across Ecessa's product line. The Outpost channel bonding appliance starts at $1295.00 and is available at 30 Mbps and 50 Mbps of throughput. The PowerLink 175, 600, and 1200 are the other new offerings from Ecessa.
Each Ecessa appliance includes 3 months of Ecessa's 24x7 Support, as well as their unique installation process which enables customers to be up and running within days. Extended Support is available as well in 1 and 3 year options.
For additional contact information, contact Jason Breyer, 2800 Campus Drive, Plymouth MN 55441 763.746.5505, fax 763.551.0664 or press(at)ecessa(dot)com.
About Ecessa
Ecessa Corporation was founded in 1968 to design, manufacture and distribute telecommunications equipment for local area networks. Over 7000 clients worldwide have purchased and installed the PowerLink line of WAN Link controllers through Ecessa and their Partners affiliates. Clients include businesses in Healthcare, Education, Government, Financial services, Legal, Hospitality, Ecommerce and ISPs.
###